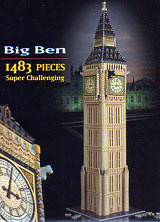 Big Ben

Title:

Big Ben


Pieces: 1483

Size: Height = 49.5 inches
Width = 13 inches
Depth = 13 inches

Manufacturer:

Wrebbit


Item Number: P3D-SP3

Big Ben, officially known as the Great Bell of Westminster, is the largest bell in the tower and part of the Great Clock of Westminster. The name Big Ben was first given to a 14.5 tonne (16 ton) hour bell, cast on 10 April 1856 in Stockton-on-Tees by Warner's of Cripplegate. The bell was never officially named, but the legend on it records that the commissioner of works, Sir Benjamin Hall, was responsible for the order; another theory is that the bell may have been named after heavyweight boxer Benjamin Caunt who was popular at the time. There's also a story that the bell was to be called "Victoria" in honour of Queen Victoria, but the ceremonial speeches went on so long that some joker shouted out "Oh, just call it Big Ben and have done with it!" and the name stuck.