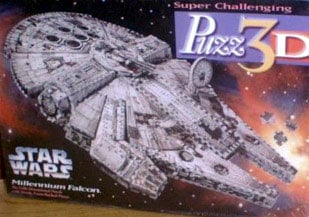 Millenium Falcon

Title:

Millenium Falcon


Pieces: 857

Size: Height = 5.75 inches
Width = 19.5 inches
Depth = 26 inches

Manufacturer:

Wrebbit


Item Number: P3D-811

The Millennium Falcon is a fictional spacecraft in the Star Wars universe commanded by smuggler Han Solo (Harrison Ford) and his Wookiee firstmate, Chewbacca (Peter Mayhew). The highly modified YT-1300 light freighter first appears in Star Wars Episode IV: A New Hope and subsequently in Star Wars Episode V: The Empire Strikes Back and Star Wars Episode VI: Return of the Jedi. The Falcon also appears in a variety of Star Wars expanded universe materials, including books, comics, and games.