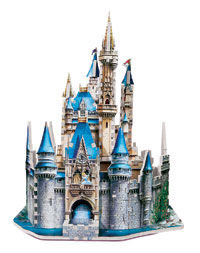 Cinderella's Castle

Title:

Cinderella's Castle


Pieces: 530

Size: Height = 17 inches
Width = 9.75 inches
Depth = 13.5 inches

Manufacturer:

Wrebbit


Item Number: P3D-2001

After the thrill of seeing the Magic Kingdom Railroad at the entrance, the sight of Cinderella's Castle is what excites us most. The symbol of Walt Disney World, Cinderella's Castle is probably the most photogenic object of all the parks.

Cinderella's castle is directly tied into Fantasyland, giving Fantasyland the look of a festive medieval tourney. Most of its ride entrances are like tents against the Castle's walls.