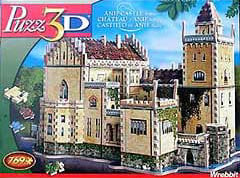 Anif Castle

Title:

Anif Castle


Pieces: 769

Size: Height = 14.625 inches
Width = 19.875 inches
Depth = 13.25 inches

Manufacturer:

Wrebbit


Item Number: 04541

The community of Anif is South of Salzburg, Austria, not far from Hellbrunn Castle and was home to the conductor Herbert von Karajan. Here you can find the ?Wasserschlo? (?water castle?) Anif. The castle was once the seat of the bishops of Chiemsee, but a plain court until the 19th century, when it was re-modelled between 1838 and 1848 in neo-Gothic style. It is private property of the family Johannes Moy and not accessible for the public.