Reviews for Human Drift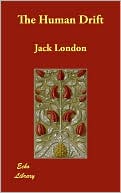 The average rating for Human Drift based on 2 reviews is 4.5 stars.
Review # 1 was written on 2015-01-07 00:00:00

Christophe Andre
Everyone knows Jack London for his books The Call of the Wild and White Fang. A few years ago I discovered his sci-fi/fantasy piece The Star-Rover and last year I read quite a few of his exciting stories set in the South Seas. So when I saw this title at Project Gutenberg, I was interested to see if I would discover yet another facet of Jack London's writing. This is a collection of essays, short sketches, London's introduction to Richard Henry Dana's wonderful book Two Years Before the Mast, and even some plays. Most of the work was light-hearted, except for the title essay The Human Drift, where London discusses the way man has spread over the continents in waves throughout history and ponders the results and eventual end of this drift. He speaks of Small-Boat Sailing so well that you feel you are there with him, and these are bits from his own adventures, not fiction. It is easy to see where the realism in his fiction comes from. The salt spray practically blows over you with every paragraph even in these short pieces. The plays were silly fun: I could imagine him taking a break from the rigors of whatever Arctic story he may have been working on to write these bits that would be right at home as comedy sketches in an old-time tv variety hour. Somehow I never pictured rough tough London with such a wonderful sense of the absurd. But my absolute favorite piece in this volume is called Four Horses And A Sailor. London and his wife wish to travel through California but they don't believe in the newfangled 'gasolene' engines so he decides to train four of his saddle horses to harness. This is in the early 1900's, remember.The laughs come thick and fast here, especially if you have known and worked with horses. I felt as if I were back in the barn, sitting around swapping "Do You Remember The Time..." stories with my friends. I'm keeping the Gutenberg link to this book handy because I will definitely want to read Four Horses And A Sailor many more times. Thanks, Jack!! The Human Drift by Jack London:
---
Review # 2 was written on 2016-04-24 00:00:00

Judith Coode
1911 eh? The narrator says he was born before the age of gasoline, even the spelling of the word itself is obsolete. He is "old fashioned". Once a sailor, always a sailor. I always believe, sailor is a special profession. It dates as old as the people start to hunt, to make tools, to explore and to conquer. Is it why Jack London started the book with a beginning "resembling" a 21 st century NGO report? Passing by an exhibition in universität Köln about Moby Dick, seeing the portray of man against sea, I raise the question: why people constantly feel threatened by the sea, instead, the land makes people feel safe. Gravity? On the surface of the sea, people feel their lives is up and down every single second, in the hand of raging Mother Nature. But land, most of the time, it's nurturing. Jack London calls sailor human drift, painted a picture of a future mixed human race. However, before the narrator starts, it's a bit awkward.
---
Login
|
Complaints
|
Blog
|
Games
|
Digital Media
|
Souls
|
Obituary
|
Contact Us
|
FAQ
CAN'T FIND WHAT YOU'RE LOOKING FOR? CLICK HERE!!!