Reviews for Spider Woman's Granddaughters: Traditional Tales and Contemporary Writing by Native American Women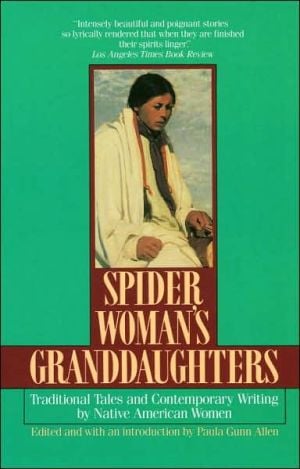 The average rating for Spider Woman's Granddaughters: Traditional Tales and Contemporary Writing by Native American Women based on 2 reviews is 5 stars.
Review # 1 was written on 2016-09-22 00:00:00

John Dayton
Spider Woman's Granddaughters: Traditional Tales and Contemporary Writing by Native American Women edited with an introduction by Paula Gunn Allen, is a must read for those wishing to gain an understanding of the culture and context within which Native American women write. This slim volume is divided into three sections: The Warriors, The Casualties, The Resistance. Gunn Allen introduces each section by situating it within its cultural context. Each section includes traditional writings that have been transmitted orally for many decades, as well as contemporary examples by well-known authors like Louise Erdrich, Anna Lee Walters, Leslie Marmon Silko, and Linda Hogan. Gunn Allen's excellent introduction to the collection provides a brief historical overview of the oppression and broken promises experienced by Native Americans. She also situates the traditional tales, some of which are biographical, and she draws connections between these tales and their contemporary counterparts. Her introductions are enlightening in that she approaches each section by clarifying terms and context, revealing nuances and subtleties in Native American writing that may not be readily apparent to all readers. Some of the traditional tales may pose a challenge for readers steeped in the Western tradition of story-telling because they do not necessarily adhere to a linear, cause and effect pattern. They weave in and out, frequently circling back on themselves, revealing biographical details about Native lives and perspectives. The contemporary writings pick up many of the same themes of traditional tales while situating them in modern society. The themes remain the same: the struggle to maintain tradition, culture, kinship, and values against the onslaught of a dominant culture that tries to subvert all things Native. A compelling collection of traditional tales and contemporary short stories, some of which are heart-wrenching. Highly recommended.
---
Review # 2 was written on 2017-09-15 00:00:00

David Renegar
This book was incredible. Part of what makes it so is that the editor, Paula Gunn Allen, wrote an in-depth introduction so that the non-native reader would understand background conversations among Native writers about their own writing and to introduce cultural nuances of the stories. At the beginning of each section she wrote about the Native concept of that section's title, one of which was warrior, which does not always mean someone who goes to war. She also wrote a brief introduction to each of the short stories giving it's time and place in Native literature and what some of the cultural expectations or illustrations were. A prime example was the stories of Yellow Woman/Corn Woman and her impact on the people. Gunn Allen also created a glossary and provides notes about each writer so that the reader can follow up with other things these women have written. The stories themselves are breathtaking. Some of them are a punch in the gut as the reader is faced with the decimation of native people by the Europeans. I could barely get through Louise Erdrich's story because what happens in the story is so horrible. Some of the stories show the beauty of Native life and traditions. My favorite section was the one entitled "Warriors" because it showed women who were warriors in ways that the tribe would recognize instantly, but that non-native people would not; we might simply describe the woman as being "strong." Not enough ways to praise these powerful, painful and beautiful stories.
---
Login
|
Complaints
|
Blog
|
Games
|
Digital Media
|
Souls
|
Obituary
|
Contact Us
|
FAQ
CAN'T FIND WHAT YOU'RE LOOKING FOR? CLICK HERE!!!