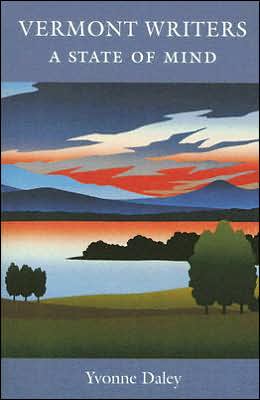 Title:
Vermont Writers: A State of Mind

Author:

Yvonne Daley


Publisher:

Castleton State College


Date Published: June 2005
Edition:

1st Edition


Pages: 352
ISBN-13:

9781584654018


ISBN-10: 1584654015
Book Buying Options
Buy Digital Book
Only $22.70

Overview:
Why is it that although Vermont is relatively distant--both geographically and metaphysically--from publishing centers as well as many issues at the heart of current literature, it is also home to some of America's greatest writers? Is there something about the place that speaks to them?

In this book, twenty-one contemporary Vermont authors are profiled along with examples of their writing. Included are: Julia Alvarez, Chris Bohjalian, David Budbill, Joseph Citro, Joan Connor, David Huddle, Jamaica Kincaid, Galway Kinnell, Sydney Lea, Jeffrey Lent, David Moats, Howard Frank Mosher, Grace Paley, Jay Parini, Verandah Porche, Aleksandr Solzhenitsyn, Ruth Stone, Abigail Stone, Phoebe Stone, Tom Smith, and Ellen Bryant Voigt.

In their conversations with Yvonne Daley, these writers open their toolboxes to share their writing approaches and techniques, their tricks of the trade. Special exercises are also included for students to make this a useful resource for the classroom. Most importantly, the book provides entry into the treasure trove that is the work of a select group of gifted Vermont writers sustaining a rich literary tradition that too many of us take for granted.
Synopsis:
A book for aspiring writers, students, and lovers of literature.
Table of Contents:
| | | |
| --- | --- | --- |
| | Introduction : celebrating "freedom and unity" | 1 |
| 1 | Howard Frank Mosher : finding one's material in Vermont | 25 |
| 2 | David Budbill : the ornery hermit activist poet | 47 |
| 3 | Chris Bohjalian : making fiction of fact | 63 |
| 4 | Joseph A. Citro : Vermont's bard of the bizarre | 79 |
| 5 | Jeffrey Lent : perseverance furthers | 93 |
| 6 | David Moats : public writing | 109 |
| 7 | Sydney Lea : writing the world we inhabit | 121 |
| 8 | Grace Paley : angelic-looking grandmother with revolution in her heart | 137 |
| 9 | Ellen Bryant Voigt : song and spirit | 153 |
| 10 | David Huddle : the writing habit | 169 |
| 11 | Galway Kinnell : man's place in the universe | 181 |
| 12 | Jay Parini : the writing life | 193 |
| 13 | Aleksandr Solzhenitsyn : making sanctuary | 213 |
| 14 | Jamaica Kincaid : finding your voice | 225 |
| 15 | Julia Alvarez : bridging two worlds | 237 |
| 16 | Ruth, Phoebe, and Abigail Stone : creating the creative home | 251 |
| 17 | Tom Smith : finding oneself | 275 |
| 18 | Verandah Porche : telling other people's stories | 291 |
| 19 | Joan Connor : chronicling the lives of the forgotten, the lost, and the downright weird | 305 |