| | |
| --- | --- |
| | |
The Wadsworth Themes American Literature Series, 1910-1945 Theme 15: Racism and Activism written by Jay Parini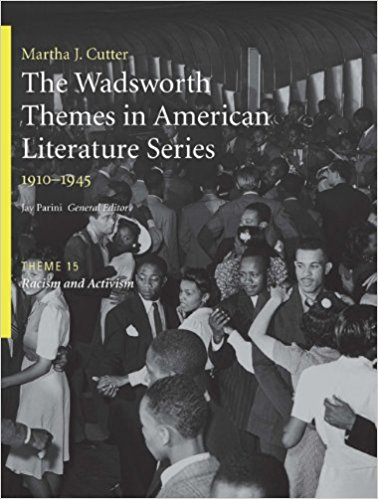 Book Buying Options
Buy Digital Book
Only $10.95

Title:
The Wadsworth Themes American Literature Series, 1910-1945 Theme 15: Racism and Activism
Category:
Literary Studies
>>
Criticism
Category:
American

Author:

Jay Parini


Publisher:

Cengage Learning


Date Published: July 2008
Edition:

1st Edition


ISBN-13:

9781428262584


ISBN-10: 142826258X
Synopsis:
The first thematic series published for American literature, THE WADSWORTH THEMES IN AMERICAN LITERATURE SERIES is currently comprised of 21 themes spanning the time period normally covered in the two-semester American literature survey course—1492 to the present. Each carefully edited booklet centers on a core issue of the period with attention given to the development of key themes. Each thematic booklet offers an introductory contextual essay, a variety of literary perspectives, headnotes and footnotes, along with a variety of visual elements. Martha J. Cutter—a scholar of considerable range and achievement who now teaches at the University of Connecticut—edits the sequence of booklets dealing with the modern era, 1910-1945, a period of pivotal importance in American history and culture. The American empire came into its own in this era, recognized its muscles, and began to flex them—in ways productive and (at times) destructive. Cutter charts the struggle between the sexes in a compelling range of texts. The subject of class and its impact on how people viewed themselves is explored in a selection of works that deal with issues of class, money, and power. The so-called New Negro Renaissance occurred during this period, a revival and consolidation of writing in a variety of genres by African Americans. And, as they must, literary selections from both world wars occupy a central place in one thematic booklet.
Table of Contents:
Preface v
Introduction 1
Meridel Le Sueur (1900-1996) 4
Women on the Breadlines 5
Langston Hughes (1902-1967) 10
Come to the Waldorf-Astoria! 12
Kenneth Fearing (1902-1961) 14
Dirge 15
Minnie and Mrs. Hoyne 16
American Rhapsody (1) 17
C Stands for Civilization 18
Love, 20[cent] the First Quarter Mile 18
Alfred Hayes (1911-1985) 19
In a Coffee Pot 20
Into the Streets May First 23
F. Scott Fitzgerald (1896-1940) 24
May Day 25
Miriam Tane (1916-2007) 66
Spring 66
Day in Technicolor 67
Headline Fugitive 68
Blue-Eyed Pigeon 69
Cafeteria 70
Tillie Lerner Olsen (1913-2007) 71
I Want You Women up North to Know 72
I Stand Here Ironing 74
Credits 81