| | |
| --- | --- |
| | |
The Wadsworth Themes American Literature Series, 1865-1915 Theme 9: Imagining Gender written by Jay Parini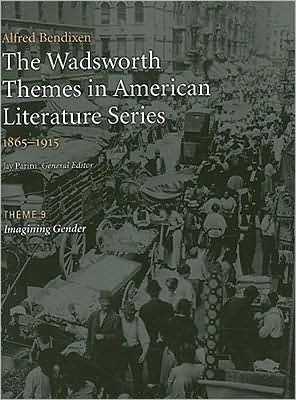 Book Buying Options
Buy Digital Book
Only $14.35

Title:
The Wadsworth Themes American Literature Series, 1865-1915 Theme 9: Imagining Gender
Category:
Literature
>>
American
>>
20th Century
>>
General & Miscellaneous
>>
Literary Criticism
Category:
19th Century American History
>>
General and Miscellaneous
Category:
19th Century American Literature
>>
Literary Criticism

Author:

Jay Parini


Publisher:

Cengage Learning


Date Published: July 2008
Edition:

1st Edition


Pages: 68
ISBN-13:

9781428262447


ISBN-10: 142826244X
Synopsis:
The first thematic series published for American literature, THE WADSWORTH THEMES IN AMERICAN LITERATURE SERIES is currently comprised of 21 themes spanning the time period normally covered in the two-semester American literature survey course—1492 to the present. Each carefully edited booklet centers on a core issue of the period with attention given to the development of key themes. Each thematic booklet offers an introductory contextual essay, a variety of literary perspectives, headnotes and footnotes, along with a variety of visual elements. In the third sequence of booklets, Alfred Bendixen offers a selection from the period just after the Civil War through the beginnings of the modern period. Bendixen, who is Executive Director of the American Literature Association, has proven himself a scholar of unusual talents, and he brings his deep knowledge of the period into play. Bendixen offers a compelling range of texts by men and women who consider the evolving issue of gender in fascinating ways. During this period, a young nation struggles to define itself, to locate its economic pulse, to balance the need for economic expansion and development with the requirements and demands of social justice. Millions of immigrants arrived from Europe, radically changing the complexion of the nation. In "Crime, Mystery, and Detection," students will find an array of gripping stories by some of the pioneering authors from this emerging popular genre.
Table of Contents:
Preface v
Introduction 1
Rebecca Harding Davis (1831-1910) 2
Marcia 3
Frank Stockton (1834-1902) 9
The Lady or the Tiger? 10
Harriet Prescott Spofford (1835-1921) 15
Her Story 16
Marietta Holley (1836-1926) 30
4th of July in Jonesville 30
Thomas Bailey Aldrich (1836-1907) 37
Marjorie Daw 38
Constance Fenimore Woolson (1840-1894) 52
The Lady of Little Fishing 53