| | |
| --- | --- |
| | |
The It Factor: Be the One People Like, Listen To, and Remember written by Mark Wiskup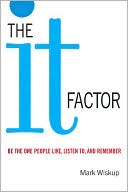 Book Buying Options
Buy Digital Book
Only $14.95

Title:
The It Factor: Be the One People Like, Listen To, and Remember
Category:
Education
>>
Language
>>
Language Arts
Category:
Communication

Author:

Mark Wiskup


Publisher:

AMACOM


Date Published: July 2007
ISBN-13:

9780814474372


ISBN-10: 0814474373
Synopsis:
Some people have the ability to start a conversation and immediately draw people in, while others—perhaps even those with more valuable things to say—get pushed to the side, seemingly ignored. Unfortunately for those who don't have "It," this undeniable "It" factor is more than just an attractive quality, it's also a hallmark of success.

A practical and entertaining guide that will help anyone supercharge their communication skills and consistently make a positive impression on others, The "It" Factor gives readers the tools—and confidence—they need to take charge of any conversation, meeting, or networking encounter. Readers will learn how to:
* communicate ideas so skillfully that people sit up and take notice
* become instantly memorable
* hold on to people's attention longer
* make stronger connections

Filled with practical techniques and powerful insights, The "It" Factor will help anyone take center stage and achieve the results they've always desired.
Table of Contents:
Acknowledgments ix
Introduction: The Elusive "It" Factor 1
No One Is Born with the "It" Factor-No Matter What Your Parents Say 5
The Enormous Value of Building Connections 15
How to Turn Every Conversation into a Connection 28
How to Build Instant Connections by Painting Pictures with Your Words 44
How to Make Boring Jargon and Stats Fascinating 63
Preserve Your Hard-Won Connections by Avoiding Patronizing Patter 78
Perfecting Your Elevator Pitch: How to Wow Them in Just Three Floors 100
How to Enhance Your Connections with Meaningful Praise and Helpful Criticism 114
How to Succeed at "Small Talk" (It's the Only Way to Get to "Big Talk") 130
How to Get Noticed at Meetings 144
The "It" Factor Five-Step Implementation Program 163
Conclusion: The Delights of Having the "It" Factor 173
Index 175