| | |
| --- | --- |
| | |
The Haves and Have Nots: 30 Stories about Money and Class in America written by Barbara H. Solomon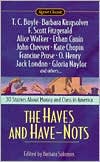 Book Buying Options
Buy Digital Book
Only $99.99

Buy Audio Book
Only $199.98

Title:
The Haves and Have Nots: 30 Stories about Money and Class in America
Category:
Anthologies
>>
Short Story
Category:
Conflicts
>>
Fiction
Category:
Literary Styles & Movements
>>
Fiction

Author:

Barbara H. Solomon


Publisher:

Penguin Group (USA)


Date Published: October 1999
Edition:

Reissue


Pages: 528
ISBN-13:

9780451527448


ISBN-10: 0451527445
Overview:
Collected for the first time in one volume. How does money—or the lack of it—affect our lives? What happens when the rich meet the poor, when status comes with a price tag, when personal desires do battle with financial concerns? This unique anthology offers a mosaic of answers, with stories by: * Francine Prose
• F. Scott Fitzgerald
• Jack London
• Kate Chopin
• Ethan Canin
• Gloria Naylor
• Sandra Cisneros
• O. Henry
• Theodore Dreiser
• Stephen Crane
• Kate Braverman
• James T. Farrell
• Charlotte Perkins Gilman * and many others.
Synopsis:
Collected for the first time in one volume.

How does money--or the lack of it--affect our lives? What happens when the rich meet the poor, when status comes with a price tag, when personal desires do battle with financial concerns? This unique anthology offers a mosaic of answers, with stories by:

T.C. Boyle * Barbara Kingsolver * Alice Walker * John Cheever * Francine Prose * F. Scott Fitzgerald * Jack London * Kate Chopin * Ethan Canin * Gloria Naylor * Sandra Cisneros * O. Henry * Theodore Dreiser * Stephen Crane * Kate Braverman * James T. Farrell * Charlotte Perkins Gilman * and more.

* An outstanding lineup of authors both classic and contemporary