| | |
| --- | --- |
| | |
The Crimson Edge: Older Women Writing, Vol. 2 written by Sondra Zeidenstein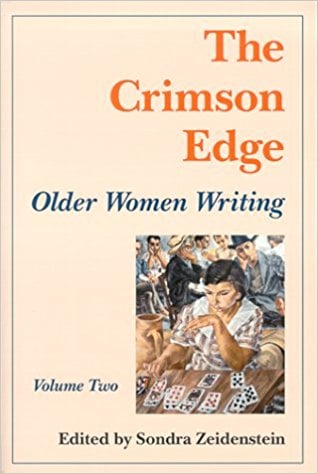 Book Buying Options
Buy Digital Book
Only $17.95

Title:
The Crimson Edge: Older Women Writing, Vol. 2
Category:
Literature
>>
Collections

Author:

Sondra Zeidenstein


Publisher:

Chicory Blue Press, Incorporated


Date Published: January 2000
ISBN-13:

9781887344067


ISBN-10: 1887344063
Synopsis:
This unique collection includes fiction, memoirs, and poetry, by seven women writers past the age of sixty: Alvia Golden, Rita Kiefer, Estelle Leontief, Carrie Allen McCray, Tema Nason, Anneliese Wagner, and Sondra Zeidenstein. Each author's creative writing is followed by an Afterword in which she talks about what is currently on her mind as an artist.
Publishers Weekly
The writing in this anthology is quite accomplished, but the selection process remains a mystery. Seven women over 60 (including Zeidenstein herself, who is also the editor of A Wider Giving) contribute work (usually several poems and stories) plus individual afterwords about the state of their work at the moment, but there is no indication of why (or if) these seven are considered representative of women their age. Most of the afterwords acknowledge an autobiographical element. In "Brother-Sister Act," Alvia Golden describes a woman visiting her dying brother in the hospital and wondering where he was when she was abused by their father; in "Acting Out," she portrays a woman attending a school reunion and wondering who does and doesn't know she's a lesbian. Many stories recall passionate relationships: Estelle Leontief contributes one long story ("Sellie and Dee") about a girl who has a fervent affair with her best friend; "Dance Steps" studies the end of an affair between an older woman and a younger man. The poetry is pleasingly concrete and narrative. Rita Kiefer's "Ex-Nun in a Red Mercedes" describes the experience of leaving a convent. Carrie Allen McCray wonders whether white people worry about the skin color of criminals when watching the news in "Do White People." In "I have a poem inside me," she recounts the subtle way her husband stopped her from writing by declaring "I am the writer in the family." Zeidenstein's "On Learning, Years Later, That My Father Had a Mistress" is full of hindsight and the careful observations that typify this collection. (Mar.)