| | |
| --- | --- |
| | |
The Columbia Book of Chinese Poetry: From Early Times to the Thirteenth Century (Translations from the Asian Classics Series) written by Burton Watson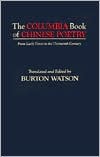 Book Buying Options
Buy Digital Book
Only $105.00

Title:
The Columbia Book of Chinese Poetry: From Early Times to the Thirteenth Century (Translations from the Asian Classics Series)
Category:
Literature
>>
Collections

Author:

Burton Watson


Publisher:

Columbia University Press


Date Published: July 1984
ISBN-13:

9780231056823


ISBN-10: 0231056826
Synopsis:
The Columbia Book of Chinese Poetry presents translations of more than 420 poems by 96 poets drawn from the great ages of Chinese poetry. It includes selections from the Book of Odes, the oldest anthology of Chinese poetry compiled around the seventh century B.C., and covers the succeeding generations down to the end of the Sung dynasty in A.D. 1279. A general introduction discusses the major characteristics and forms of traditional Chinese poetry, while introductory essays to the individual chapters outline the history of poetic development in China over the centuries
Harvard Journal of Asiatic Studies
This anthology covers an immense variety of different poets, spanning twenty-three centuries. In Watson´s skilled hands, they all become accessible, intelligible, and highly readable. . . . A great achievement.
Table of Contents:
Introduction
1. The Book of Odes
2. The Ch'u Tz'u
3. Early Songs, Poems in Rhyme-Prose Form, and Yüeh-fu Ballads
4. Poems of the Han and Wei
5. T'ao Yüan-ming
6. Chin, Six Dynasties, and Sui Poets
7. Major T'ang Poets I: Wang Wei, Li Po, Tu Fu
8. Major T'ang Poets II: Han Yü, Po Chü-i, Han-shan
9. Other T'ang Poets
10. Two Major Sung Poets: Su Tung-p'o, Lu Yu
11. Other Sung Poets
12. Lyrics in Tz'u Form