| | |
| --- | --- |
| | |
Organizations: Behavior, Structure, Processes written by James L. Gibson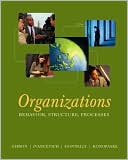 Book Buying Options
Buy Digital Book
Only $182.50

Buy Audio Book
Only $365.00

Title:
Organizations: Behavior, Structure, Processes
Category:
Business
>>
Economics
Category:
Human Resources & Personnel Management

Author:

James L. Gibson


Publisher:

McGraw-Hill Companies, The


Date Published: February 2008
Edition:

13rd Edition


ISBN-13:

9780073381305


ISBN-10: 0073381306
Synopsis:
Overview: Managing people and their behavior in organizations is one of the most challenging tasks anyone could face. Gibson's Organizations: Behavior, Structure, Processes, Thirteenth Edition, presents theories, research results, and applications that focus on managing organizational behavior in small, large, and global organizations. It is organized and presented in a sequence based on behavior, structure, and processes. Each part is presented as a self-contained unit and can therefore be presented in whatever sequence instructors prefer. Organizations is easily adaptable to individual preferences. This edition emphasizes that the most successful managers in the global economy will be those who can anticipate, adapt, and manage change.
Table of Contents:
Part 1 IntroductionChapter 1 The Study of OrganizationsChapter 2 Organizational CultureChapter 3 Globalization
Part 2 Behavior Within Organizations: The IndividualChapter 4 Individual Behavior and DifferencesChapter 5 Motivation: Background and TheoriesChapter 6 Motivation and Reward ProgramsChapter 7 Work Stress: Issues and Management
Part 3 Behavior within Organizations: Groups and Interpersonal InfluenceChapter 8 Group and Team BehaviorChapter 9 Conflict and NegotiationChapter 10 Power and PoliticsChapter 11 Leadership: FundamentalsChapter 12 Leadership: Emerging and Changing Concepts
Part 4 The Structure and Design of OrganizationsChapter 13 Work DesignChapter 14 Organizational Structure
Part 5 The Processes of OrganizationsChapter 15 Managing Communication ProcessesChapter 16 Decision MakingChapter 17 Managing Organizational Change and LearningAppendix Procedures and Techniques For Studying Organizations: Behavior, Structure, Processes