| | |
| --- | --- |
| | |
Openings in the Old Trail written by Bret Harte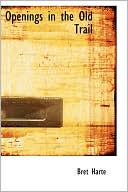 Book Buying Options
Buy Digital Book
Only $99.99

Buy Audio Book
Only $199.98

Title:
Openings in the Old Trail
Category:
Fiction

Author:

Bret Harte


Publisher:

BiblioBazaar


Date Published: August 2008
ISBN-13:

9780554383392


ISBN-10: 055438339X
Synopsis:
Leonidas is quite the skilled scamp -- and getting to learn more wiles all the time. That trick with the secret letters for that newcomer Mrs. Burroughs, the one who was so kind to him -- that was a new one for him, and one he thoroughly enjoyed. And seeing her face transform when she read that secret letter -- that made it all worth while.

But the rattlesnake trick -- that was all his own.

"How did you know it was here?" said Mrs. Burroughs, recovering herself from the sight of the snake.

"I fetched him here," Leonidas told her proudly. "Made him follow! I've handled him, sure, but it was after I'd first made him strike his pizen out upon a stick. Ye know, after he strikes four times he ain't got any pizen left. Then ye kin do anythin' with him, and he knows it! I've bin three months trainin' him!"

Bret Harte (1836-1902) gained fame for his local-color tales of the Far West, in the days of the California Gold Rush.