| | |
| --- | --- |
| | |
My Utmost for His Highest: 365 One-Minute Meditations written by Oswald Chambers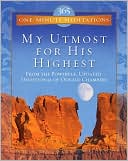 Book Buying Options
Buy Digital Book
Only $9.97

Buy Audio Book
Only $19.94

Title:
My Utmost for His Highest: 365 One-Minute Meditations
Category:
Literature
>>
Collections

Author:

Oswald Chambers


Publisher:

Barbour Publishing, Incorporated


Date Published: March 2008
ISBN-13:

9781602600508


ISBN-10: 1602600503
Synopsis:
Looking for a quick spiritual boost? Try 365 One—Minute Meditations from My Utmost for His Highest, drawn from the best—selling devotional by Oswald Chambers. One of the best—selling devotionals of all time, My Utmost provides deep, timeless spiritual truths—and now a "best of the best" excerpt is provided for every day of the year. It's perfect for people on the go—busy moms, business travelers, college students, and anyone needing a spiritual pick—me—up.
Biography
Oswald Chambers (1874–1917) is best known for the classic devotional, My Utmost for His Highest. Born in Scotland, Chambers had a teaching and preaching ministry that took him for a time to the United States and Japan. He died at age forty-three while serving as a chaplain to British Commonwealth troops in Egypt during World War I.