| | |
| --- | --- |
| | |
John Oldham and the Renewal of Classical Culture written by Paul Hammond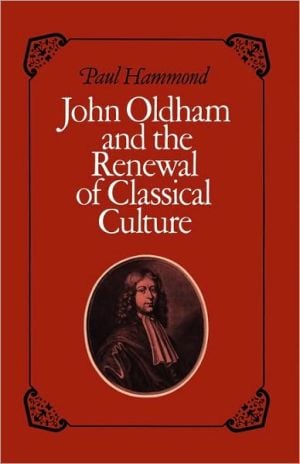 Book Buying Options
Buy Digital Book
Only $24.95

Title:
John Oldham and the Renewal of Classical Culture
Category:
Translating & Interpreting
Category:
English Fiction & Prose Literature
>>
General & Miscellaneous
>>
Literary Criticism
Category:
Ancient Greek Literature
>>
Literary Criticism

Author:

Paul Hammond


Publisher:

Cambridge University Press


Date Published: August 2010
Edition:

Reissue


Pages: 266
ISBN-13:

9780521154918


ISBN-10: 052115491X
Overview:
John Oldham (1653–1883) was one of the most important English poets of the later seventeenth century. He was largely responsible for the development of the classical imitation and was much admired by Dryden, Pope and Johnson. However, he has suffered much critical neglect, and this 1983 book was the first critical study devoted to his poetry. In the first two chapters Dr Hammond covers Oldham's early years and his first attempts at writing poetry. Since the manuscript drafts of his poems survive, we have the rare opportunity to watch a poet's mind at work, and we can follow him as he restrains his addiction to harsh rhythms and crude language. Subsequent chapters consider Oldham's recreative translations of Horace, Juvenal and Boileau. Apart from showing how these came to invigorate English poetry, the author explores the ways in which Latin and French culture was handled in the Restoration period.
Table of Contents:
Preface; A note on texts; Prologue; 1. Origins; 2. Indirections; 3. 1678: A Letter from the Country to a friend in Twon, The Desk, Poems on the Popish Plot; 4. Horace: Horace His Art of Poetry, An Imitation of Horace Book I. Satyr IX, Two paraphrases from Horace: Carmina I.xxxi and II.civ; 5. Juvenal: Juvenal in the seventeenth century, The Thirteenth Satyr of Juvenal, Imitated, A Satyr, in Imitation of the Third of Juvenal; 6. Boileau: The Eighth Satyr of Monsieur Boileau, Imitated, A Satyr Touching Nobility: out of Monsieur Boileau, A Satyr Dissuading from Poetry, A Satyr addressed to a Friend; Epilogue: To the Memory of Mr. Oldham; Chronological table; Notes; Bibliography; Index.