| | |
| --- | --- |
| | |
In the Company of Men: Representations of Male-Male Sexuality in Meiji Literature written by Jim Reichert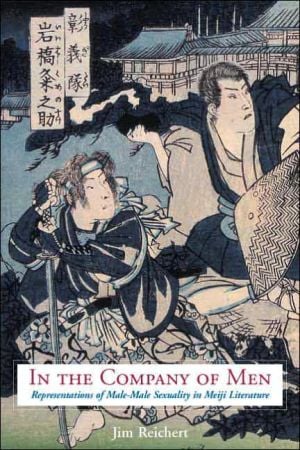 Book Buying Options
Buy Digital Book
Only $58.11

Buy Audio Book
Only $116.22

Title:
In the Company of Men: Representations of Male-Male Sexuality in Meiji Literature
Category:
Literature
>>
Asian
>>
Anthologies

Author:

Jim Reichert


Publisher:

Stanford University Press


Date Published: January 2006
Edition:

1


Pages: 296
ISBN-13:

9780804752145


ISBN-10: 0804752141
Overview:
"Reichert demonstrates overall a depth of knowledge of the genre, and as a result this book is filled with numerous thought-provoking and informative narratives."—Intersections: Gender, History and Culture in the Asian Context
"Japanese literary studies is not usually a place we hope to find radical visions for social reform but In the Company of Men, through meticulously recording how "the repressive regime of compulsory heterosexuality" was painstakingly written into the Japanese literary canon, opens up space for imagining how things could have been, and could still be, otherwise."—Journal of Japanese Studies
Synopsis:
In the Company of Men examines representations of male-male sexuality in literature from the Meiji period, when Japan launched an unprecedented modernization campaign.
Table of Contents:
| | | |
| --- | --- | --- |
| 1 | Shizu no odamaki and early-Meiji nostalgia for Samurai Nanshoku | 17 |
| 2 | Sawamura Tanosuke and early-Meiji reinterpretations of Kabuki Nanshoku | 36 |
| 3 | Tosei shosei katagi and the institutionalization of compulsory male heterosexuality | 69 |
| 4 | Yamada Bimyo : historical fiction and modern love | 99 |
| 5 | Samurai love and mid-Meiji masculinity in Koda Rohan's Hige otoko | 137 |
| 6 | The love that dare not speak its name : male-male desire in Natsume Soseki's Nowaki | 167 |
| 7 | Nanshoku and naturalism in Mori Ogai's Vita Sexualis | 199 |