| | |
| --- | --- |
| | |
Hidden agendas written by Lydia Miljan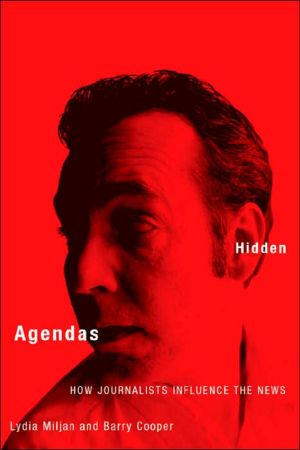 Book Buying Options
Buy Digital Book
Only $37.95

Title:
Hidden agendas
Category:
Journalism
>>
Collections & History
Category:
Journalism
>>
General & Miscellaneous

Author:

Lydia Miljan


Publisher:

Vancouver : UBC Press, c2003.


Date Published: 2003
Pages: 188
ISBN-13:

9780774810197


ISBN-10: 077481019X
Overview:
In our news-hungry society, journalists have become celebrities and, often, political proxies. To a large degree, our world is shaped by their commentaries on everything from war to health care and trade. Hidden Agendas is a noholds-barred expose of how reporters' opinions shape the information that we consider news. Focusing primarily on the political orientation of journalists, Miljan and Cooper investigate the link between what journalists believe about politics and how they report political issues. Using data gathered from interviews with over 800 Canadians and some 270 journalists, the book arrives at the controversial conclusion that journalists, more so than media owners, are the architects of news, engineering not only its drama but also its ideological thrust.
Table of Contents:
| | | |
| --- | --- | --- |
| | Figures | |
| | Preface | |
| Pt. I | Context | |
| 1 | Why Journalists? | 3 |
| 2 | Why the News? | 24 |
| 3 | Agents of Control or Agents of Change? | 47 |
| Pt. 2 | Data | |
| 4 | Who Staff Canada's Media? | 67 |
| 5 | The Newsroom and Content Analysis | 95 |
| Pt. 3 | Issues | |
| 6 | Economic Issues | 107 |
| 7 | Partition of Quebec | 138 |
| 8 | The Courts and Social Issues | 145 |
| 9 | Findings in a Shifting Mediascape | 167 |
| | App. A: Questionnaire | 177 |
| | App. B: Content Analysis Variables | 186 |
| | Notes | 191 |
| | References | 193 |
| | Index | 202 |