| | |
| --- | --- |
| | |
Fragments of Union: Making Connections in Scottish and American Writing written by Susan Manning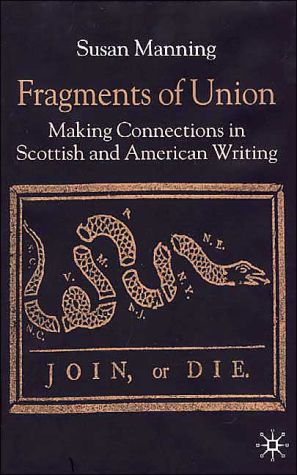 Book Buying Options
Buy Digital Book
Only $145.00

Title:
Fragments of Union: Making Connections in Scottish and American Writing
Category:
History
>>
Scottish
Category:
Comparative Literature
Category:
Literary Criticism
>>
U.S. Fiction & Prose Literature
>>

Author:

Susan Manning


Publisher:

Palgrave Macmillan


Date Published: March 2002
Edition:

REV


Pages: 249
ISBN-13:

9780333760253


ISBN-10: 0333760255
Overview:
Fragments of Union, a new approach to comparative literary studies, examines forms of connections between nations, literatures, individuals, and words. It asks how, and why, connections get severed, and about the nature of the pieces that remain. Interdisciplinary readings of writings by Scots and Americans re-draw the literary map of both countries during the Enlightenment and Romantic periods. Political, philosophical, cultural, and grammatical dimensions give its analysis sharp relevance to the new conditions presented by devolved government in Britain.
Synopsis:
Manning (English literature, U. of Edinburgh) argues that the 18th- century American notion of one-in-many is also characteristic of writing during the Scottish Enlightenment. She looks at political, psychological, and grammatical conjunctions, and analogies between them in Scotland and America during the period between the 1707 Union of Parliaments and the Civil War of the 1860s. Annotation c. Book News, Inc., Portland, OR (booknews.com)
Table of Contents:
| | | |
| --- | --- | --- |
| | List of Illustrations | |
| | Acknowledgements | |
| | Introduction: 'Join, or Die' | 1 |
| 1 | The Grammar of the Imagination | 32 |
| 2 | Finding the Boundaries | 65 |
| 3 | Composing a Self | 107 |
| 4 | Savaged Texts and Harmonising Sentiments | 148 |
| 5 | Gathering the Nation | 196 |
| 6 | Mapping the Language: a Scottish-American Stylistics of Consciousness | 241 |
| | Notes | 289 |
| | Index | 325 |