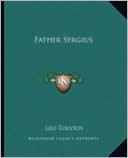 Title:
Father Sergius

Author: Leo Tolstoy
Publisher:

Kessinger Publishing Company


Date Published: September 2010
ISBN-13:

9781162662558


ISBN-10: 1162662557
Book Buying Options
Buy Digital Book
Only $49.99

Buy Audio Book
Only $99.98

Synopsis:
A prince and officer, the Life Guard leaves everything to become a monk. He later becomes a hermit, then a miracle healer. This leads to his questioning both his actions and his philosophies, and he ends as a hired man in Siberia.