| | |
| --- | --- |
| | |
EXERGY: Energy, Environment and Sustainable Development written by Marc A. Rosen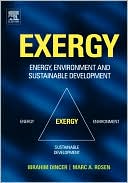 Book Buying Options
Buy Digital Book
Only $187.00

Buy Audio Book
Only $374.00

Title:
EXERGY: Energy, Environment and Sustainable Development
Category:
Business
>>
Economics
Category:
Development

Author:

Marc A. Rosen


Publisher:

Elsevier Science


Date Published: September 2007
ISBN-13:

9780080445298


ISBN-10: 0080445292
Synopsis:
Exergy, Energy, Environment and Sustainable Development is a research-oriented book and therefore includes practical features in a usable format often not included in other, solely academic textbooks.

Theory and analysis are emphasized throughout in this comprehensive book, reflecting new techniques, models and applications, including various materials with the most recent information. Coverage of the material is extensive and the amount of information and data presented is sufficient for exergy related courses or supplementary for energy, environment and sustainable development courses.

This book is essentially intended for use by advanced undergraduate or graduate students in several engineering and non-engineering disciplines and as an essential tool for practitioners.

It is strongly believed that it will be of interest to students, practitioners, as well as people and institutions who are interested in exergy and its applications to various systems and applications, as well as other areas. It is an invaluable and readable reference text and source for anyone who wishes to learn about more about exergy and its linkages with energy, environment and sustainable development.
Table of Contents:
Preface Acknowledgement Chapter 1. Thermodynamic Fundamentals Chapter 2. Energy and Exergy Analyses Chapter 3. Exergy, Environment and Sustainable Development Chapter 4. Exergy of Applications by Industry Chapter 5. Exergy in Policy Development and Education Chapter 6. Exergy Analysis of Psychrometric Processes Chapter 7. Exergy Analysis of Heat Pump Systems Chapter 8. Exergy Analysis of Drying Processes and Systems Chapter 9. Exergy Analysis of Thermal Energy Storage Systems Chapter 10. Exergy Analysis of Renewable Energy Systems Chapter 11. Exergy Analysis of Steam Power Plants Chapter 12. Exergy Analysis of Cogeneration and District Energy Systems Chapter 13. Exergy Analysis of Cryogenic Systems Chapter 14. Exergy Analysis of Crude Oil Distillation Systems Chapter 15. Exergy Analysis of Fuel Cell Systems Chapter 16. Exergy Analysis of Aircraft Systems Chapter 17. Exergoeconomic Analysis of Thermal Systems Chapter 18. Sectoral Exergy Analysis Chapter 19. Exergetic Life Cycle Assessment Chapter 20. Exergy and Industrial Ecology Nomenclature References Appendix A. Glossary Appendix B. Conversion Factors Appendix C. Thermophysical Properties Subject Index