| | |
| --- | --- |
| | |
Eighteenth-Century Popular Culture: A Selection written by John Mullan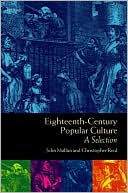 Book Buying Options
Buy Digital Book
Only $99.99

Buy Audio Book
Only $199.98

Title:
Eighteenth-Century Popular Culture: A Selection
Category:
Literary Studies
>>
Criticism
Category:
European

Author:

John Mullan


Publisher:

Oxford University Press, USA


Date Published: December 2000
ISBN-13:

9780198711346


ISBN-10: 0198711344
Synopsis:
This book is a carefully annotated selection of eighteenth-century writings about popular culture. During the eighteenth century, popular culture assumed a peculiar importance. In the early part of the century, high and low cultures often collided. Later in the century, politeness more and more required the distancing of genteel from vulgar amusements. This collection rediscovers some of the energies of the low and the vulgar in the period by examining particular themes (crime, religious enthusiasm, popular politics, for example) and telling particular stories (the career of a notorious criminal, the exploits of a religious sect, John Wilkes and the crowd). It also illustrates how the very idea of popular culture was formed in the period, providing examples of the ways in which it was discussed both by those who were fearful of it and those who were fascinated by it.
This interdisciplinary reader throws new light on a neglected area of study
About the Authors:
John Mullan is Senior Lecturer in English, University College, London
Christopher Reid is Senior Lecturer in English, Queen Mary and Westfield College, University of London
Table of Contents:
Introduction Using the Selection
1. Eighteenth-Century Views of Popular Culture
2. Religious enthusiasm: the French Prophets, 1707-1711
3. Fairgoers and Reformers: the Struggle for Bartholomew Fair
4. Almanacs: Astrology and Popular Protestantism
5. Crime: the Fortunes of Jack Sheppard
6. Custom and the Calendar: the Gregorian Reform and its Opponents
7. Popular Politics: John Wilkes and the Crowd, 1768-70
8. Popular Perceptions of Empire: Native Americans in Britain in the 1760s Index