| | |
| --- | --- |
| | |
Dexter Bexley and the Big Blue Beastie written by Joel Stewart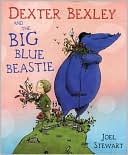 Book Buying Options
Buy Digital Book
Only $16.95

Title:
Dexter Bexley and the Big Blue Beastie
Category:
Children's Books
>>
Fiction
Category:
Humorous Stories

Author:

Joel Stewart


Publisher:

Holiday House, Inc.


Date Published: April 2007
ISBN-13:

9780823420681


ISBN-10: 082342068X
Synopsis:
Dexter Bexley has bumped square into a Big Blue Beastie. A bored Big Blue Beastie that ponders eating Dexter Bexley right up just for fun. Thinking quickly, Dexter suggests a much better idea. He and the Big Blue Beastie go into business together. No matter how many adventures Dexter can think up to distract him, the Big Blue Beastie continually finds himself bored and hungry. It seems that this might finally be the end for Dexter Bexley . . . or is it?
Joel Stewart spins a darkly comic yet ultimately reassuring tale about friendship.
Publishers Weekly
The aptly named Big Blue Beastie, a bored monster, believes eating young Dexter Bexley will relieve his ennui. But the resourceful, diminutive Dexter heads off Beastie's appetite by always coming up with another fun thing that the two of them can do together. In the funniest series of vignettes, they open a detective agency, solving cases with comically evocative names such as "The Rubber Glove Affair" and even fending off a Moriarty-like nemesis named Professor Hortern Zoar. By the time Dexter's stock of ideas is exhausted, the Big Blue Beastie decides it's much more fun to have the boy as a friend than a snack. Mock-Victorian drawings bring to mind the sly delicacy of Edward Gorey; every image conveys Stewart's (Jabberwocky) wit. The urbane, economical narrative, written in clipped British cadences, follows suit with its comic pith and dialogue conveyed in speech bubbles. Stewart always trusts that readers will get the jokes and be able to fill in the embellishments for themselves. A treat. Ages 4-8. (Apr.)

Copyright 2007 Reed Business Information