| | |
| --- | --- |
| | |
Decisions! Decisions!: The Dynamics of Choice written by Carol S. Lawson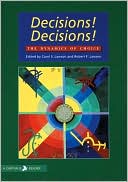 Book Buying Options
Buy Digital Book
Only $13.95

Title:
Decisions! Decisions!: The Dynamics of Choice
Category:
Literary Studies
>>
Criticism
Category:
American

Author:

Carol S. Lawson


Publisher:

Swedenborg Foundation Publishers


Date Published: October 1999
ISBN-13:

9780877852308


ISBN-10: 0877852308
Synopsis:
The Chrysalis Reader is an annual anthology of poetry, essays, and short fiction on topics of spiritual growth and development. Decisions! Decisions! addresses the dynamics of choice.
Table of Contents:
| | | |
| --- | --- | --- |
| | Editor's Note | |
| | Prelude | |
| | The Paths at Beechwood | ix |
| Part I | Kismet | |
| | Star Glyph Transmission (An Interview) | 3 |
| | Mal Aire (fiction) | 6 |
| | Maybe My Friend (fiction) | 8 |
| | Hallowed Is the Hollow Self | 11 |
| | On the Road to Balenbahd (fiction) | 14 |
| | Thy Will, Not Mine | 20 |
| | As Above, So Below | 27 |
| | Noah at the Lumberyard (poem) | 34 |
| | The Buddha Knot (poem) | 35 |
| Part II | Heart's Compass | |
| | The Blue Stole (fiction) | 38 |
| | Heart's Compass | 51 |
| | Encounter in a Bookstore (fiction) | 54 |
| | The Road Home (fiction) | 62 |
| | Dozing at Chartres (poem) | 68 |
| Part III | Where Angels Fear to Tread | |
| | Alone in My Body | 72 |
| | Single Parent | 78 |
| | The Rite of Choice | 82 |
| | Hard Decisions | 85 |
| | Choosing to Adopt | 93 |
| | Spur (poem) | 99 |
| | Sarai's Dilemma (poem) | 100 |
| Part IV | Work Issues | |
| | Tidal Choices | 104 |
| | Have a Good Fright | 108 |
| | Balkan Renaissance | 113 |
| | The Wave of the Future and the Smell of Success | 122 |
| | Perils of Space Travel (fiction) | 126 |
| | Louise Boyd Land (poem) | 133 |
| | Nothing Stirs (poem) | 135 |
| Part V | Ring Around a Rosary | |
| | Giving Tess Religion | 139 |
| | Ring Around the Rosary | 142 |
| | Easter Eggs and Yarmulkes | 146 |
| | Coming to Believe | 149 |
| | Charity (poem) | 154 |
| Part VI | Target Versus Arrow | |
| | Aid and Comfort (fiction) | 161 |
| | The Giving Spirit | 167 |
| | A Chosen Path | 172 |
| | Chocolate or Vanilla? | 177 |
| | Buttercups (fiction) | 183 |
| | The Cowbird or the Flycatcher | 190 |
| | Deciding (poem) | 194 |
| | Those Who Wrote, Died (poem) | 195 |