| | |
| --- | --- |
| | |
Constructing Crime: Perspectives on Making News and Social Problems written by Gary W. Potter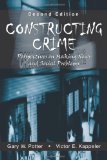 Book Buying Options
Buy Digital Book
Only $30.95

Title:
Constructing Crime: Perspectives on Making News and Social Problems
Category:
Politics & Social Sciences
>>
Social Sciences
Category:
Criminology

Author:

Gary W. Potter


Publisher:

Waveland Press, Inc.


Date Published: April 2006
Edition:

2nd Edition


ISBN-13:

9781577664468


ISBN-10: 1577664469
Synopsis:
Deconstructing the taken-for-granted messages of the media! This collection of fifteen essays addresses the following questions: Why are crime facts so difficult to determine but crime fear so easy to manipulate? Through what process do rumors, gossip, urban legends, and apocryphal stories become public common sense ? Through what mechanisms do isolated and rare incidents weave a tapestry of fear, panic, and hysteria? Who benefits from these constructions? This collection takes the stance that the reality of crime in the U.S. has been subverted to a constructed reality and that the policies and programs emanating from that constructed reality do far more damage than good to public safety and crime control. These are some of the best studies on the media and crime. They show how crime news should be interpreted. Students are taught to ask basic questions about the powerful, controlling messages delivered by the media: where did the message come from? who supplied it? and do they have a vested interest in how one reacts to that information?