| | |
| --- | --- |
| | |
Chances Are...: Providence? Serendipity? or Fate? written by Carol S. Lawson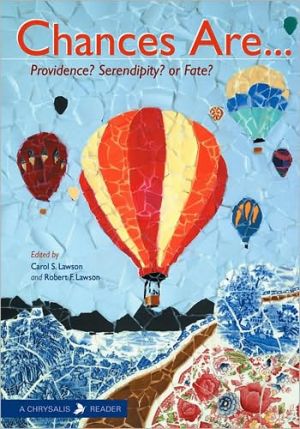 Book Buying Options
Buy Digital Book
Only $99.99

Buy Audio Book
Only $199.98

Title:
Chances Are...: Providence? Serendipity? or Fate?
Category:
Anthologies
>>
American Literature

Author:

Carol S. Lawson


Publisher:

Swedenborg Foundation Publishers


Date Published: October 2002
Pages: 176
ISBN-13:

9780877852339


ISBN-10: 0877852332
Overview:
What role does chance or fate play in human spiritual growth? If we are born with dual citizenship—both earthly and spiritual—perhaps it is through an energizing mix of free will, circumstance, and divine providence that we grow fully as members of both communities. Chances Are... sheds light on forces that mold and direct us throughout the surprising dance of spiritual growth. This collection of essays, short stories, poetry, and art examines the possibilities of chance and divine providence in the swirling dance of ordinary and extraordinary circumstances—events in which we must act to live fully. Readers will follow on the heels of life-and-death decisions made by workers as the second World Trade Tower implodes, experience the uncertainty of World War II combat soldiers, and run to freedom with an American citizen as he is swept up by political turmoil in 1914 Mexico City. We also encounter a spiritual awakening, tingling like a tuning fork, at France's holy shrine in Lourdes. Dark fate, shadowy obverse of serendipity, is acknowledged on a foggy night not far from home in New England, and then at a Nagasaki memorial. Chances Are... Providence? Serendipity? or Fate? explores the conundrum at the heart of such encounters; how do we know whether we are being led by the spirit or by our own invention?
Synopsis:
The Chrysalis Reader is an annual anthology of poetry, essays, and short fiction on topics of spiritual growth and development. Chances Are... addresses themes of fate and coincidence.