| | |
| --- | --- |
| | |
Lewis Carroll written by Lewis Carroll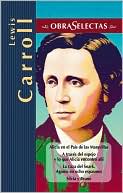 Book Buying Options
Buy Digital Book
Only $12.95

Title:
Lewis Carroll
Category:
Literature
>>
Collections

Author: Lewis Carroll
Publisher:

Edimat Libros


Date Published: April 2005
Edition:

Spanish-language Edition


ISBN-13:

9788497644877


ISBN-10: 8497644875
Synopsis:
These volumes represent each author's best and most famous writings. This finely crafted and affordable series offers the works of these world-renowned authors to a wider audience.

Includes Alice in Wonderland, The Hunting of the Snark, Sylvie and Bruno, and Through the Looking Glass.
Table of Contents:
| | | |
| --- | --- | --- |
| | List of Illustrations | |
| | Select Bibliography | |
| | Introduction | |
| | My Fairy | 1 |
| | Brother and Sister | 1 |
| | Rules and Regulations | 2 |
| | Lays of Sorrow No. 1 | 4 |
| | Lays of Sorrow No. 2 | 7 |
| | The Two Brothers | 11 |
| | Dedication | 16 |
| | How Doth ... | 17 |
| | The Mouse's Tale | 18 |
| | Father William | 19 |
| | The Duchess's Lullaby | 22 |
| | Mad Hatter's Song | 22 |
| | The Mock Turtle's Song | 23 |
| | Alice's Recitation | 23 |
| | Turtle Soup | 25 |
| | Evidence Read at the Trial | 25 |
| | Jabberwocky | 27 |
| | The Walrus and the Carpenter | 30 |
| | Humpty Dumpty's Recitation | 35 |
| | The White Knight's Ballad | 36 |
| | Acrostic | 39 |
| | Phantasmagoria | 40 |
| | A Sea Dirge | 64 |
| | Hiawatha's Photographing | 66 |
| | Poeta Fit, Non Nascitur | 70 |
| | The Lang Coortin' | 73 |
| | Fit the First | 81 |
| | Fit the Second | 87 |
| | Fit the Third | 91 |
| | Fit the Fourth | 94 |
| | Fit the Fifth | 97 |
| | Fit the Sixth | 102 |
| | Fit the Seventh | 105 |
| | Fit the Eighth | 108 |
| | The Mad Gardener's Song | 110 |
| | The Three Badgers | 112 |
| | The King-Fisher's Song | 114 |
| | The Pig-Tale | 115 |
| | Appendix: 'Jabberwocky' - Humpty Dumpty Explains | 120 |
| | Index of first lines | 122 |