| | |
| --- | --- |
| | |
Eighteenth Century Labouring Class Poets written by John Goodridge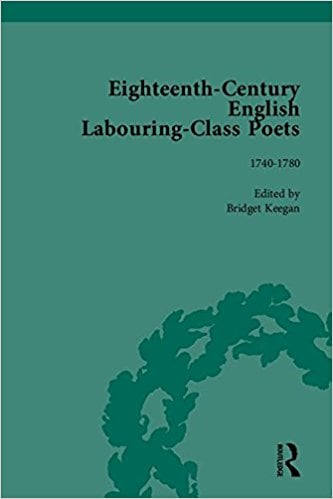 Book Buying Options
Buy Digital Book
Only $495.00

Title:
Eighteenth Century Labouring Class Poets
Category:
Literary Studies
>>
Criticism
Category:
Poetry

Author:

John Goodridge


Publisher:

Ashgate Publishing, Limited


Date Published: March 2003
ISBN-13:

9781851967582


ISBN-10: 1851967583
Synopsis:
This edition offers for the first time a collection of vital source materials, richly illustrating one of the most interesting and important literary movements of the eighteenth century and Romantic period. This set shows the development of the tradition of labouring-class poetry through the eighteenth century, bringing together for the first time many of the most influential poets. A key text in the first volume is 'The Thresher's Labour' (1730) by Stephen Duck, whose success inspired many later labouring-class poets. Mary Collier's 'The Woman's Labour' (1739) pioneered a feminist workplace poetry, and showed how Duck's description of labour might be developed.

Poets emerged from a number of trades, and trade-specific groups such as shoemaker-poets and weaver-poets are well represented. Examples of supporting materials such as prefaces and subscription lists are reproduced here, showing the ways the labouring class writers placed themselves in the literary market, or were presented by patrons and publishers. The writings demonstrate (for instance in the titles of works by the bricklayer poet Henry Jones) how strategic dedications and flattery could be used to oil the system of patronage. We can also see, especially in the example of the Bristol poet Ann Yearsley, how poets often struggled to establish themselves independently. As the age of revolution and Romanticism developed in the last part of the century, there was a distinct increase in labouring-class poetry, much of it socially and politically oriented, and marked by a linguistic range and freedom not seen earlier. The two poets whose language most radically departs from the norms of Augustan poetry, Thomas Chatterton and Robert Burns, became the most important influences in the tradition, as may be seen in the final volume of the series.