| | |
| --- | --- |
| | |
Time Well Bent written by Connie Wilkins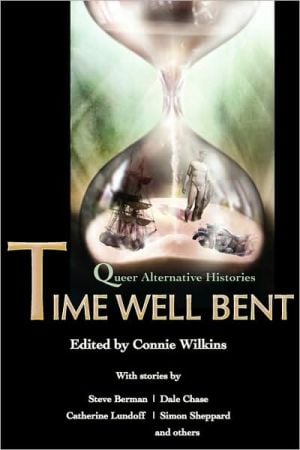 Book Buying Options
Buy Digital Book
Only $13.83

Buy Audio Book
Only $27.66

Title:
Time Well Bent
Category:
Peoples & Cultures
>>
American Anthologies
Category:
Gay & Lesbian Literature Anthologies
Category:
Gay & Lesbian Fiction

Author:

Connie Wilkins


Publisher:

Lethe Press


Date Published: October 2008
Pages: 184
ISBN-13:

9781590211342


ISBN-10: 1590211340
Overview:
We have always been here. For as long as there's been such a thing as sex, alternate sexual identities have been a fact of life. So why have we been so nearly invisible in recorded history and historical fiction? Now editor Connie Wilkins, a Lambda Literary Award finalist, has assembled fourteen stories that span the centuries-from ancient times to the Renaissance to the modern era-and explore alternate versions of our past. Their queer protagonists, who bend history in ways dramatic enough to change the world and subtle enough to touch hearts and minds, rescue our past from invisibility, and affirm our place and importance throughout all of history, past, present, and future.
Synopsis:
We have always been here. For as long as there's been such a thing as sex, alternate sexual identities have been a fact of life. So why have we been so nearly invisible in recorded history and historical fiction? Now editor Connie Wilkins, a Lambda Literary Award finalist, has assembled fourteen stories that span the centuries-from ancient times to the Renaissance to the modern era-and explore alternate versions of our past. Their queer protagonists, who bend history in ways dramatic enough to change the world and subtle enough to touch hearts and minds, rescue our past from invisibility, and affirm our place and importance throughout all of history, past, present, and future.\