| | |
| --- | --- |
| | |
Strange Times, My Dear: The Pen Anthology of Contemporary Iranian Literature written by Nahid Mozaffari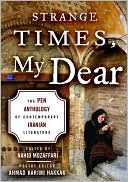 Book Buying Options
Buy Digital Book
Only $27.50

Title:
Strange Times, My Dear: The Pen Anthology of Contemporary Iranian Literature
Category:
Poetry
Category:
General

Author:

Nahid Mozaffari


Publisher:

Arcade Publishing


Date Published: April 2005
ISBN-13:

9781559707657


ISBN-10: 1559707658
Synopsis:
Now in paperback, a rich and varied collection of short stories, extracts from novels, and poetry that showcases the latest developments in Iranian literature, from which we have been virtually cut off since the Islamic Revolution of 1979.

Author Biography: Nahid Mozaffari earned her Ph.D. in history and Middle Eastern studies from Harvard University. She has taught Middle Eastern history at the New School in New York and at Cabot University in Rome. She lives in New York City.
Library Journal
This collection of short stories and poetry by Iranian writers highlights literary contributions from this culturally rich part of the world. An engaging but also disturbing picture of dangerous times in Iran during the late 1970s and 1980s, the book tackles controversial issues, ranging from religious freedom to misogyny to revolution to the oil trade. As compelling as their stories, the writers are an eclectic mix: a good balance of male and female, including various scholars, a former judge, a filmmaker, political activists, and artists. Among them are Hushing Golshirir ("The Victory Chronicle of the Magi"), imprisoned because one of his novels was perceived to be critical of the Shah of Iran. Moniru Ravanipur's unsettling "Satan's Stones" reminds the reader of the cost of pursuing purity. Ravanipur gently reminds the reader that such acts remain very much a part of cultures around the world. Literature from this region of the world is hard to come by, and this collection of prose and poetry is both timely and well written. Recommended for academic and public libraries, as it will add diversity to any collection.-Valeda F. Dent, Hunter Coll., New York Copyright 2005 Reed Business Information.
Table of Contents:
Introduction : Nahid Mozaffari
The mirror
4
The victory chronicle of the Magi
11
Excerpt from Scorched earth
38
Excerpt from Sorraya in a coma
61
Ask the migrating birds
82
The eyes won't take it
89
The grocer of Kharzeville
93
Delayed consequences of the revolution
105
Excerpt from The book of absent people
116
Excerpt from Women without men
144
Satan's stones
157
Ah, Istanbul
169
Mahbubeh and the demon Ahl
189
In another place
216
Hitchcock and Agha Baji
272
A little secret
292
A room full of dust
313
Excerpt from The trial
325
First love
334
Shatter the stone tooth
342
White rock
354
Peace of night
360
Poetry
Introduction
365
In this blind alley
372N="RIGHT">
400