| | |
| --- | --- |
| | |
Best of Friction: The First Five Years, Vol. 1 written by Jesse Grant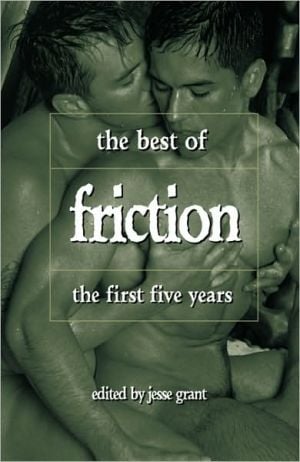 Book Buying Options
Buy Digital Book
Only $99.99

Buy Audio Book
Only $199.98

Title:
Best of Friction: The First Five Years, Vol. 1
Category:
Anthologies
>>
Short Story
Category:
Peoples & Cultures
>>
American Anthologies
Category:
Gay & Lesbian Literature Anthologies

Author:

Jesse Grant


Publisher:

Alyson Books


Date Published: July 2002
Edition:

1ST


Pages: 416
ISBN-13:

9781555837617


ISBN-10: 1555837611
Overview:
For five years, Friction has been providing readers with the best gay erotic fiction published each year. Now we bring together the best stories from this monumental series into one volume.

Jesse Grant is a writer and editor. He edited Men for All Seasons and has been the co-editor of the Friction series since the second volume.
Synopsis:
The best of the best! Friction celebrates five years of hot erotic fiction.
Table of Contents:
| | | |
| --- | --- | --- |
| | Nasty | 1 |
| | The Foreman and the Grunt | 10 |
| | Joe Pornstar | 18 |
| | Three-Penny Dare | 25 |
| | Fantasies | 38 |
| | For the Asking | 50 |
| | Constantine's Cats | 59 |
| | Getting Even | 65 |
| | Thug Life, Thug Fiction | 77 |
| | Bringing Up Robbie | 92 |
| | Ripped Rasslers | 103 |
| | The Porn Writer | 108 |
| | Looking for Mr. Right | 119 |
| | Pig | 130 |
| | Assume the Position | 141 |
| | He | 148 |
| | Shelter | 164 |
| | In-Tents Encounter | 176 |
| | Working Up a Sweat | 182 |
| | Plaza del Sol | 190 |
| | Now and Then | 200 |
| | The Training Session | 208 |
| | Chain Male | 213 |
| | Side Effect | 221 |
| | The Hot Nine at 9:00 | 231 |
| | Revelations | 244 |
| | Karma | 252 |
| | Almost Better Than Sex | 263 |
| | For Real | 271 |
| | Heads and Tails | 285 |
| | Family Affair | 288 |
| | Nocturne | 300 |
| | Snowbound | 309 |
| | Gravity | 331 |
| | The Act | 336 |
| | Gorgeous Tits | 348 |
| | Opportunities | 356 |
| | Boystown | 364 |
| | Contributor Biographies | 375 |
| | Publication Information | 381 |