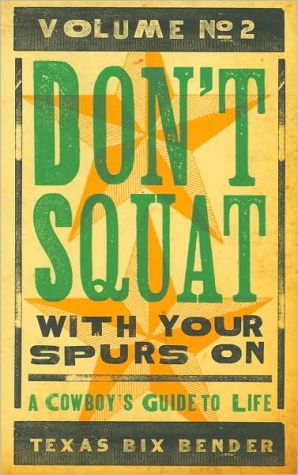 Overview:
"Whether the glass is half empty or half full depends on whether you're drinking or pouring."

Synopsis:
Henry Ward Beecher said "the common sense of one century is the common sense of the next."
That said, these pocket-sized humor books pack quite a bit of punch-lines that is. With more than
1.5 million copies in print, their all-new look will leave a whole new generation in stitches!

Excerpt:
When you're in the wrong and you need to set it right, how far you have traveled in the doin' of it has nothing to do with the rightin' of it.
Book Buying Options
Buy Digital Book
Only $7.99

Buy Audio Book
Only $15.98

Title:
Don't Squat With Your Spurs On, Volume No. 2: A Cowboy's Guide to Life

Author:

Texas Bix Bender


Publisher:

Smith, Gibbs Publisher


Date Published: October 2009
Edition:

Revised


Pages: 128
ISBN-13:

9781423607007


ISBN-10: 1423607007