| | |
| --- | --- |
| | |
The Englishwoman in America (Cambridge Library Collection - History) written by Isabella L. Bird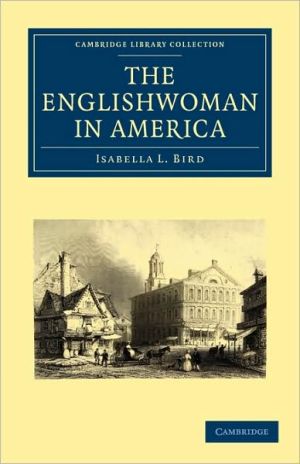 Book Buying Options
Buy Digital Book
Only $45.00

Title:
The Englishwoman in America (Cambridge Library Collection - History)
Category:
Geographical
>>
North America
>>
USA
>>
Travel Essays & Descriptions
Category:
U.S. Travel
>>
General & Miscellaneous
Category:
Women Travelers
>>
Travel Essays & Descriptions

Author:

Isabella L. Bird


Publisher:

Cambridge University Press


Date Published: 2009
Edition:

1st


Pages: 476
ISBN-13:

9781108003841


ISBN-10: 1108003842
Overview:
In 1856, Isabella Bird published The Englishwoman in America, the first of what would be many books of her travels around the world. Adopting a tone of aloof bemusement, she describes in detail the hardships and annoyances of her travels by sea from England to Halifax, and on the road to Boston, Cincinnati, and Chicago. The book's 20 chapters are full of keenly observed and entertainingly told stories of pickpockets and luggage thieves, greasy hotels, and Americans who are very polite, but have the unfortunate habit of spitting on the floor. Bird admits to sharing the regrettably prejudiced view the English have of America, but nevertheless finds much to like and admire in this new country bustling with ethnically diverse immigrants full of energy and bravado. The Englishwoman in America is a wonderful travelogue that offers a lively and personal glimpse into mid-nineteenth-century America.
Table of Contents:
1. Prefatory and explanatory; 2. An inhospitable reception; 3. Popular ignorance; 4. From St George's cross to the stars and stripes; 5. First experiences of American freedom; 6. A suspected bill; 7. The Queen City continued; 8. The hickory stick; 9. A vexatious incident; 10. The Place of Council; 11. 'I've seen nothing'; 12. A scene at starting; 13. The House of Commons; 14. Concluding remarks on Canada; 15. Preliminary remarks on re-entering the United States; 16. Position of New York; 17. The cemetery; 18. Origin of the constitution; 19. General remarks continued; 20. The America.