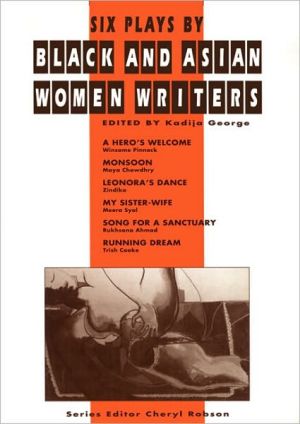 Title:
Six Plays by Black and Asian Women Writers

Author:

Kadija George


Publisher:

Theatre Communications Group


Date Published: April 1999
Pages: 228
ISBN-13:

9780951587720


ISBN-10: 0951587722
Book Buying Options
Buy Digital Book
Only $11.29

Buy Audio Book
Only $22.58

Overview:
Comedy, poetry, history and magic combined with themes of a social and spiritual nature make this volume an exciting collection. Plays for stage, radio and television together with essays on theatre, writing workshops, oral traditions and Yvonne Brewster O.B.E. in dialogue.
Synopsis:
The first drama anthology by Black and Asian women writers.
Table of Contents:
| | | |
| --- | --- | --- |
| | Introduction | 5 |
| | The Importance of Oral Tradition to Black Theatre | 8 |
| | The Write Stuff | 12 |
| | Black Women in Theatre | 14 |
| | The Theatre of Black Women: Britain's first Black Women's Theatre Company | 16 |
| | Yvonne Brewster | 18 |
| | "A Hero's Welcome" | 21 |
| | "Monsoon" | 56 |
| | "Leonora's Dance" | 76 |
| | "My Sister-Wife" | 111 |
| | "Song for a Sanctuary" | 159 |
| | "Running Dream" | 187 |