| | |
| --- | --- |
| | |
F. R. Leavis: Essays and Documents written by Ian MacKillop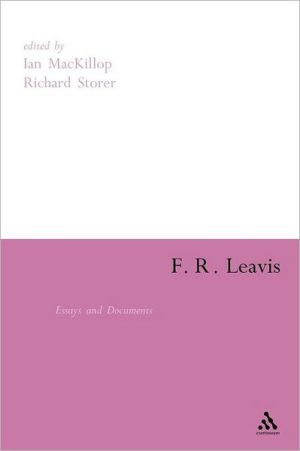 Book Buying Options
Buy Digital Book
Only $52.80

Buy Audio Book
Only $105.6

Title:
F. R. Leavis: Essays and Documents
Category:
History
>>
European
>>
Bristish
>>
Regional
Category:
English Fiction & Prose Literature
>>
General & Miscellaneous
>>
Literary Criticism
Category:
Literary Theory
>>
General & Miscellaneous

Author:

Ian MacKillop


Publisher:

Sheffield Academic Press, Limited


Date Published: October 2005
Edition:

ANN


Pages: 322
ISBN-13:

9780826485762


ISBN-10: 0826485766
Overview:
A collection of new studies on one of the best known and most important British literary critics of the twentieth century. The book is divided into four sections: documentary analysis of Leavis's practice as a teacher, drawing on seminar notes, lecture handouts, reading lists and other material; new bibliographical data, including a detailed account of Leavis's project to turn Daniel Deronda into a new novel called Gwendolen Harleth; critical essays on Leavis's thought; and memoirs of different phases in Leavis's career, from the 1930s to the 1960s. The volume also includes an up-to-date Reader's Guide to Leavis's own writings and to the many studies of his work.
Synopsis:
F.R. Leavis is considered to be one of the most important British literary critics of the 20th century. Containing 14 contributions from MacKillop (formerly U. of Sheffield, now deceased), Storer (U. of Leeds) and other scholars, this volume examines various facets of Leavis's thought and career—with particular attention paid to his practice as a teacher. It also features a detailed account of Leavis's project to turn Daniel Deronda into a new novel called Gwendolen Harleth. This is a reprint of a volume originally published in 1995 by Sheffield Academic Press. Annotation ©2006 Book News, Inc., Portland, OR
Table of Contents:
| | | |
| --- | --- | --- |
| 1 | Leavis as critic of new poetry : uncollected reviews | 13 |
| 2 | Leavis as reader of Daniel Deronda | 29 |
| 3 | Leavis and 'Gwendolen Harleth' | 40 |
| 4 | Rubrics and reading lists | 53 |
| 5 | Leavis's downing seminars : a student's notes | 71 |
| 6 | 'Cunning passages' : Leavis's lectures on poetry and prose | 92 |
| 7 | Education and the university : structure and sources | 129 |
| 8 | The impersonal objective : Leavis, the literary subject and Cambridge thought | 149 |
| 9 | Leavis and post-structuralism | 174 |
| 10 | Leavis on Lawrence | 190 |
| 11 | In the 1930s : Cambridge to New Zealand | 227 |
| 12 | Pre-war downing | 238 |
| 13 | Downing after the war | 244 |
| 14 | 'Leavisite' Cambridge in the 1960s | 264 |
| | F. R. Leavis : a reader's guide | 283 |