| | |
| --- | --- |
| | |
More New York Stories: The Best of the City Section of The New York Times written by Constance Rosenblum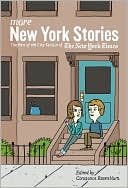 Book Buying Options
Buy Digital Book
Only $99.99

Buy Audio Book
Only $199.98

Title:
More New York Stories: The Best of the City Section of The New York Times
Category:
Literature
>>
Collections

Author:

Constance Rosenblum


Publisher:

New York University Press


Date Published: November 2010
ISBN-13:

9780814776544


ISBN-10: 081477654X
Synopsis:
This anthology contains fifty memorable stories from New York Times' award-winning City Section. The line-up of contributing authors includes Francine Prose, Kevin Baker, Jonathan Rosen, Laura Shaine Cunningham, Christopher Sorrentino, Suketu Mehta, and Nathaniel Rich. The pulse of a great city in sculpted prose.
Publishers Weekly
For 16 years, local news and quirky, personal stories found a home in the (now defunct) City section of the Sunday New York Times. Former section editor Rosenblum gathers 50 of the best pieces of the post September 11 era by masters of the form including Edwidge Danticat and Francine Prose. Roy Hoffman's remembrance of a West Village buddy with cerebral palsy who was forced to confine his world to the few blocks he could navigate is complemented by Saki Knafo's tribute to a group of aging amateur athletes who've been playing basketball together for 33 years and David McAninch's appreciative travelogue of the "forgotten" cityscape of lunch counters, taverns, and cigar shops--all odes to a New York less romanticized and more real. Tragedies--like the story of giving a homeless man buried in the city's potter's field a proper family funeral--are squeezed like subway passengers between droller accounts of, say, the weekly lunch ritual of the New Yorker's wry cartoonists. Organized thematically into such categories as "Characters" and "Rituals, Rhythms and Ruminations," this rich sampling delivers. (Nov.)