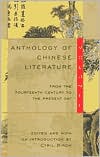 Title:
Anthology of Chinese Literature: From the Fourteenth Century to the Present Day, Vol. 2

Author:

Cyril Birch


Publisher:

Grove/Atlantic, Inc.


Date Published: January 1994
Pages: 512
ISBN-13:

9780802150905


ISBN-10: 080215090X
Book Buying Options
Buy Digital Book
Only $1.99

Overview:
Represented here are examples of various categories of Chinese literary composition-verses, songs, stories, essays, drama, and excerpts from novels from the Y'an and Ching Dynasties, as well as the Republican Period. Highlights include Songs from the Y'an Dynasty, The Temptation of Saint Pigsy by Wu Ch'eng-en, a selection from Peony Pavilion, early Ch'ing lyrics, and "Six Chapters" from A Floating Life by Shen Fu.