| | |
| --- | --- |
| | |
O Solo Homo: The New Queer Performance written by Holly Hughes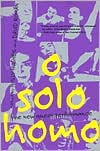 Book Buying Options
Buy Digital Book
Only $13.68

Buy Audio Book
Only $27.36

Title:
O Solo Homo: The New Queer Performance
Category:
Drama
Category:
American Literature Anthologies
Category:
Anthologies

Author:

Holly Hughes


Publisher:

Grove/Atlantic, Inc.


Date Published: May 1998
Edition:

1 ED


Pages: 176
ISBN-13:

9780802135704


ISBN-10: 0802135706
Overview:
The First Lady of queer performance joins forces with a theater critic and professor to presents this assemblage of the best solo work by some of the most acclaimed and influential artists in the field of gay performance art.
Synopsis:
O Solo Homo is a diverse, definitive, and hugely entertaining collection representing the cutting edge of queer solo performance. The pieces in O Solo Homo touch nerves that run deep — from sex, politics, community, and health to the struggles and joys of family, friends, and lovers. Peggy Shaw, of Split Britches, revisits how she learned to be butch. The late Ron Vawter, of the Wooster Group, juxtaposes the lives of two very different men who died of AIDS: diva filmmaker Jack Smith and Nixon crony Roy Cohn. Tim Miller, one of the NEA Four, surveys the landscape of gay desire before and after the advent of AIDS. And Carmelita Tropicana, the "National Songbird of Cuba," makes an unforgettable, hilarious return to Havana.
Table of Contents:
| | | |
| --- | --- | --- |
| | Acknowledgments | |
| | O Solo Homo: An Introductory Conversation | 1 |
| | Milk of Amnesia - Leche de Amnesia | 17 |
| | Naked Breath | 49 |
| | My Left Breast | 93 |
| | skin & ornaments | 121 |
| | You're just Like My Father | 175 |
| | I Remember Mapa | 199 |
| | Virtually Yours | 229 |
| | Without Skin or Breathlessness | 279 |
| | Downtown | 313 |
| | Attachments | 349 |
| | Hello (Sex) Kitty: Mad Asian Bitch on Wheels | 375 |
| | Clit Notes | 411 |
| | Roy Cohn/Jack Smith | 441 |