| | |
| --- | --- |
| | |
The British Library Guide to Printing: History and Techniques written by Michael Twyman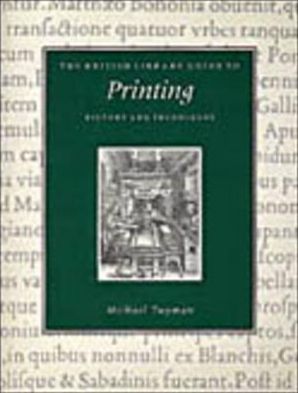 Book Buying Options
Buy Digital Book
Only $21.86

Buy Audio Book
Only $43.72

Title:
The British Library Guide to Printing: History and Techniques
Category:
Printmaking
Category:
Books & Illuminated Manuscripts
Category:
Graphic Design
>>
History & Criticism

Author:

Michael Twyman


Publisher:

University of Toronto Press, Scholarly Publishing Division


Date Published: February 1999
Edition:

1st Edition


Pages: 92
ISBN-13:

9780802081797


ISBN-10: 0802081797
Overview:
Printing is generally held to be one of the most important inventions of all time and to have helped change the course of history. It can be described as a means of giving form to and multiplying graphic signs and messages, and its extraordinary social, artistic and intellectual impact derives from its technical appropriateness and adaptability.

In this authoritative introduction, Michael Twyman focuses on printing methods and techniques, from the invention of printing in the Far East and in Europe to today's digital revolution, and how they have played a part in shaping their end product.

With over 60 colour and black-and-white illustrations, The British Library Guide to Printing: History and Techniques is one of a series of titles providing accessible and lively introductions to the practical aspects of the history of books and how they are made.
Synopsis:
An introduction to the history and techniques of printing that offers a thorough and accessible historical overview of techniques and processes, illustrated with examples, diagrams, and photographs of craftspeople at work.
Table of Contents:
| | | |
| --- | --- | --- |
| | Acknowledgements | 6 |
| | Introduction | 7 |
| | What is printing? | 8 |
| | Origination | 8 |
| | Multiplication | 12 |
| | Words and pictures | 15 |
| | Printed artefacts | 17 |
| | Hand production | 18 |
| | The invention in the Far East | 18 |
| | The invention in Europe | 21 |
| | Early printing | 25 |
| | The monochrome book | 30 |
| | The growth of illustration | 35 |
| | Printing presses | 38 |
| | Matching process to job | 42 |
| | Innovation and proliferation | 46 |
| | New opportunities | 46 |
| | Lithography: an entirely new process | 47 |
| | Wood-engraving: pictures for mass markets | 50 |
| | The search for verisimilitude | 55 |
| | Colour printing becomes a necessity | 59 |
| | New types for advertising | 66 |
| | Speeding up production | 69 |
| | From analogue to digital | 76 |
| | Letterpress gives way to lithography | 76 |
| | Photocomposition | 79 |
| | The digital revolution | 81 |
| | Further reading | 83 |
| | Index | 86 |