| | |
| --- | --- |
| | |
Chaucer Translator written by Paul Beekman Taylor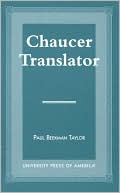 Book Buying Options
Buy Digital Book
Only $99.99

Buy Audio Book
Only $199.98

Title:
Chaucer Translator
Category:
Literary Studies
>>
Criticism
Category:
European

Author:

Paul Beekman Taylor


Publisher:

University Press of America


Date Published: December 1997
ISBN-13:

9780761809630


ISBN-10: 0761809635
Synopsis:
This book argues that Chaucer's theory of translation is based upon particular hermeneutic procedures of the day applied to the authoritative literary texts in the European cultural tradition. These texts encompass the European tradition extending from Plato through Christian humanism and Jean de Meun to Italian and French contemporaries. The work displays Chaucer's development as a translator from early attempts to render contemporary French poetry in an English courtly idiom to the later masterly translations in "Troilus" and"The Canterbury Tales". The later translations disdain mirroring Latin and vernacular texts with English and instead read through the surface of a literary source to a sense Chaucer "discovers" or "invents". Throughout the book, emphasis is placed on Chaucer's sensitivity to the poetic possibilities in the polysemy of the English language.
Booknews
Examines Chaucer's re-contextualizing of story and the ways in which he re-tailors old texts into new apparel. After a polemical introduction, five chapters reveal Chaucer confronting the implications of Nominalism and Realism to translation in his . The next four chapters consider "borrowings" from old texts which are put to modern use in Chaucer's stories. A final chapter sums up Chaucer's style of translation with a look at two translations from Petrarch. Annotation c. by Book News, Inc., Portland, Or.
Table of Contents:
| | | |
| --- | --- | --- |
| | Preface | |
| | Acknowledgments | |
| Ch. 1 | Chaucer's Strategies of Translation | 1 |
| Ch. 2 | Genesis and Apocalypsis: Zephirus and the Canon's Yeoman's Breath | 19 |
| Ch. 3 | Translating Spiritual to Corporeal in the Dusk of the Miller's Tale | 39 |
| Ch. 4 | Timothy, Jeremiah and Chaucer's Parson | 51 |
| Ch. 5 | Translating Thought Into Word and Deed: From Plato and Jean de Meun | 67 |
| Ch. 6 | Augustine, Boccaccio and Chaucer's Pardoner | 87 |
| Ch. 7 | Redressing Nero's Array | 105 |
| Ch. 8 | Translating the Latin Muses | 119 |
| Ch. 9 | Seeing through the Eye of the Lynx | 143 |
| Ch. 10 | Translating Two Guillaumes | 155 |
| Ch. 11 | Chaucer's Games With His Names | 171 |
| Ch. 12 | Translating Petrarch By Loving Criseyde and Killing Grisilde | 179 |
| | Bibliography | 191 |
| | Index | 203 |