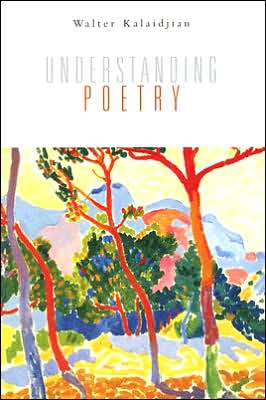 Title:
Understanding Poetry

Author:

Walter Kalaidjian


Publisher:

Cengage Learning


Date Published: January 2004
Edition:

1st Edition


Pages: 757
ISBN-13:

9780618386291


ISBN-10: 0618386297
Book Buying Options
Buy Digital Book
Only $97.06

Buy Audio Book
Only $194.12

Overview:
This contemporary, distinctive, and inclusive anthology offers a fresh introduction to poetry. Like its parent text, Understanding Literature, Understanding Poetry features updated organization, integrated yet accessible discussions of historical and cultural contexts and critical approaches, and a rich table of contents. Accompanied by the Understanding Literature CD-ROM and Web Site, this new collection will give teachers and students richer, more relevant experiences in reading, thinking, and writing about poetry.
Synopsis:
Representing the next generation of literary anthologies, Walter Kalaidjian;s Understanding Poetry is built on a balanced foundation of classical works and contemporary collections, enriched with integrated , accessible discussions of critical approaches and cultural contexts. Helpful instruction on thinking about poetry further guides students to interpret verse on deeper levels and write more effectively about what they read.
Table of Contents:
Why Study Literature I. Understanding Poetic Form
1.Introduction: Reading Poetry Marianne Moore, Poetry
2.Poetic Language: Diction, Word Choice, and Tone Seamus Heaney, Digging Gerard Manley Hopkins, The Windhover Janice Mirikitani, Breaking Tradition Randall Jarrell, The Knight, Death, and the Devil John Keats, This Living Hand Seamus Heaney, A Dream of Jealousy Richard Eberhart, The Fury of Aerial Bombardment Poems for Further Reading and Critical Writing William Stafford, Traveling Through the Dark Louise Bogan, Didactic Piece Marianne Moore, The Mind Is an Enchanting Thing
3.Poetic Imagery and Theories of the Modern Image Denise Levertov, O Taste and See Archibald MacLeish, Eleven Theories of the Modern Image Ezra Pound, In a Station of the Metro William Carlos Williams, The Great Figure Gary Snyder, Mid-August at Sourdough Mountain Lookout Poems for Further Reading and Critical Writing Denise Levertov, The Dead Butterfly Mina Loy, Mexican Desert H.D. (Hilda Doolittle), Sea Rose H.D. (Hilda Doolittle), Sea Violet T.S. Eliot, Preludes Critical Perspective: On Imagist Poetics Ezra Pound, from "A Few Don'ts for an Imagist" Critical Perspective: Modern Poetry and Formal Invention William Carlos Williams, from The Wedge
4.Figurative Language Sylvia Plath, Metaphors Anonymous, I Have a Yong Sister William Shakespeare, Sonnet 73 (That time of year thou mayst in me behold) Margaret Atwood, Habitation W.S. Merwin, Separation William Wordsworth, I Wandered Lonely as a Cloud Sharon Olds, Size and Sheer Will William Wordsworth, Composed upon Westminster Bridge, September 3, 1802 Emily Dickinson, Poem 328 (A Bird came down the Walk) Charles Simic, Watch RepairDylan Thomas, Fern Hill Poems for Further Reading and Critical Writing Ted Hughes, The Thought-Fox Walt Whitman, from Song of Myself (Section 6) Robert Frost, The Silken Tent John Donne, A Valediction Forbidding Mourning Matthew Arnold, Dover Beach
5.Symbolism William Blake, The Lamb Dorothy Parker, One Perfect Rose William Blake, The Sick Rose Mary TallMountain, The Last Wolf Robert Frost, Mending Wall Sylvia Plath, The Moon and the Yew Tree W.S. Merwin, Strawberries Edward Taylor, Upon a Spider Catching a Fly Poems for Further Reading and Critical Writing Walt Whitman, When Lilacs Last in the Dooryard Bloom'd Walt Whitman, I Saw in Louisiana a Live-Oak Growing William Carlos Williams, The Yachts
6.Myth W.H. Auden, Musée des Beaux Arts Anne Sexton, To a Friend Whose Work Has Come to Triumph Louise Erdrich, Jacklight Poems for Further Reading and Critical Writing Louise Glück, Mythic Fragment T.S. Eliot, Journey of the Magi Leslie Marmon Silko, Prayer to the Pacific Pat Mora, Coatlicue's Rules: Advice from an Aztec Goddess Walt Whitman, from Song of Myself (Section 24) Percy Bysshe Shelley, Ode to the West Wind
7.Emotive Poetics Theodore Roethke, Dolor Robert Bly, Waking from Sleep William Shakespeare, Sonnet 29 (When, in disgrace with fortune and men's eyes) Galway Kinnell, First Song Emily Dickinson, Poem 258 (There's a certain Slant of light) Poems for Further Reading and Critical Writing Emily Dickinson, Poem 512 (The Soul has Bandaged moments) Sylvia Plath, Fever 103 Walt Whitman, from Song of Myself (Section 26)
8.Prosody Sound Emily Dickinson, Poem 465 (I heard a Fly buzz—when I died) W.B. Yeats, The Lake Isle of Innisfree Sylvia Plath, Point Shirley Samuel Taylor Coleridge, Kubla Khan Rhyme Wilfred Owen, Arms and the Boy Meter and Rhythm Theodore Roethke, My Papa's Waltz
9.Poetic Forms Fixed Poetic Forms Blank Verse, Couplets, Tercets, and Quatrains Richard Wilbur, First Snow in Alsace Longer Fixed Stanza Forms The Sonnet John Milton, When I Consider How My Light Is Spent William Shakespeare, Sonnet 55 (Not marble, nor the gilded monuments) Edmund Spenser, Sonnet 75 (One day I wrote her name upon the strand) Gwendolyn Brooks, the rites for Cousin Vit The Villanelle Theodore Roethke, The Waking The Sestina Pattern Poetry, Concrete Poetics, and Vers Libre George Herbert, Easter Wings John Hollander, Swan and Shadow May Swenson, Bleeding Open Poetic Forms W.S. Merwin, The Well Featured Writer: John Keats On First Looking into Chapman's Homer On Seeing the Elgin Marbles Poems for Further Reading and Critical Writing Ode on a Grecian Urn Ode to a Nightingale La Belle Dame sans Merci The Eve of St. Agnes To Autumn Letters of John Keats Excerpt from Letter to Benjamin Bailey, November 22, 1817 Excerpt from Letter to George and Thomas Keats, December 21, 1817 Excerpt from Letter to John Taylor, February 27, 1818 Excerpt from Letter to John Hamilton Reynolds, May 3, 1818 Critical Perspective: On Keats and Critical Judgment Cynthia Chase, from "Viewless Wings: Keats's 'Ode to a Nightingale'" Critical Perspective: On Keats and Symbolism David Perkins, from "The 'Ode to a Nightingale'" Critical Perspective: On Imagination and Reality in the Odes Jack Stillinger, from "Imagination and Reality in the Odes" II. Poetry and History
10.Beyond Formalism: Poetry and New Historicism William Blake, London Anne Bradstreet, The Author to Her Book
11.Critical Perspectives: A Casebook on Poetry and Social Activism Between the Wars Poems for Further Reading and Critical Writing Kenneth Fearing, Dirge Kenneth Fearing, $2.50 Kenneth Fearing, X Minus X Langston Hughes, Goodbye Christ Langston Hughes, Johannesburg Mines Langston Hughes, Elevator Boy Alfred Hayes, In a Coffee Pot Tillie Lerner Olsen, I Want You Women Up North to Know Genevieve Taggard, Mill Town Edwin Rolfe, Credo Edwin Rolfe, Asbestos Edwin Rolfe, Not Men Alone Muriel Rukeyser, The Minotaur Joseph Kalar, Papermill Joseph Kalar, Worker Uprooted Critical Perspective: On Countée Cullen's "Incident" Cary Nelson, from Repression and Recovery Critical Perspective: On Depression Era Culture Rita Barnard, from The Great Depression and the Culture of Abundance
12.Critical Perspectives: A Casebook on Poetry, Trauma, and Testimony: Holocaust Verses Poems for Further Reading and Critical Writing Primo Levi, Shemá Nelly Sachs, O the Chimneys Elie Wiesel, Never Shall I Forget Yevgeny Yevtushenko, Babii Yar Dan Pagis, Written in Pencil in the Sealed Railway-Car Paul Celan, Death Fugue Sylvia Plath, Lady Lazarus William Heyen, Kotov Anthony Hecht, The Book of Yolek Tadeusz Rózewicz, Pigtail Charles Reznikoff, from Holocaust Adrienne Rich, from Sources Rachel Blau DuPlessis, Draft 17: Unnamed Critical Perspective: On Holocaust Testimony Geoffrey H. Hartman, from "On Traumatic Knowledge and Literary Studies" Critical Perspective: On Paul Celan's Imagery Shoshana Felman, from Testimony (on Paul Celan's "Death Fugue") Critical Perspective: On Witnessing to the Holocaust Dori Laub, from Testimony Critical Perspective: On the Holocaust Survivor Terrence Des Pres, from The Survivor Critical Perspective: On Posttraumatic Stress Disorder Cathy Caruth, from Trauma: Explorations in Memory
13.Critical Perspectives: A Casebook on Beat Poetry Jack Kerouac, Belief & Technique for Modern Prose Allen Ginsberg, America Allen Ginsberg, A Supermarket in California Allen Ginsberg, First Party at Ken Kesey's with Hell's Angels Jack Kerouac, About the Beat Generation Jack Kerouac, 149th Chorus Jack Kerouac, 211th Chorus Jack Kerouac, The Thrashing Doves Gregory Corso, Dream of a Baseball Star Amiri Baraka (LeRoi Jones), Three Modes of History and Culture Diane Di Prima, On Sitting Down to Write, I Decide Instead to Go to Fred Herko's Concert Anne Waldman, College under Water
14.Critical Perspectives: A Casebook on Postmodern Poetics Poems for Further Reading and Critical Writing Bob Perelman, Virtual Reality Bob Perelman, Chronic Meanings Susan Howe, Turning Charles Bernstein, The Kiwi Bird in the Kiwi Tree Charles Bernstein, Ear Shot Charles Bernstein, House of Formaldehyde Critical Perspective: On Nonlinear Poetics Marjorie Perloff, from "After Free Verse: The New Nonlinear Poetries" Critical Perspective: On Postmodernism and Capitalism Fredric Jameson, from Postmodernism or, The Cultural Logic of Late Capitalism Critical Perspective: On "Language Writing" Bob Perelman, from The Marginalization of Poetry
15.Critical Perspectives: A Casebook on Performance and Performativity Performativity Performative Poetics Signifying Tracie Morris, Chief Song Performance Literature Guillermo Gómez-Peña, I Could Only Fight Back in My Poetry Amiri Baraka, KA 'BA Amiri Baraka, Black Dada Nihilismus Paul Beatty, Darryl Strawberry Asleep in a Field of Dreams Paul Beatty, A Three Point Shot from Andromeda Maggie Estep, The Stupid Jerk I'm Obsessed With Tracie Morris, Project Princess Tracie Morris, Gangsta Suite Miguel Piñero, The Book of Genesis According to St. Miguelito Ntozake Shange, Blood Rhythms—Blood Currents—Black Blue N Stylin' III. Understanding Poetic Representation
16.Race and Representation Color and Representation Robert Herrick, The White Island, or Place of the Blest Thomas Campion, Follow Thy Fair Sun Sir Philip Sidney, from Sonnet 71 (Who will in fairest book of Nature know) Poetry and the Harlem Renaissance Langston Hughes, Dream Variations Helene Johnson, What Do I Care for Morning Poetry and Double-Consciousness Countée Cullen, Heritage Gwendolyn B. Bennett, Heritage Poems for Further Reading and Critical Writing Paul Laurence Dunbar, We Wear the Mask Claude McKay, The Harlem Dancer Claude McKay, America Jean Toomer, Portrait in Georgia Georgia Douglas Johnson, The Heart of a Woman Georgia Douglas Johnson, The True American Helene Johnson, My Race Gwendolyn B. Bennett, To a Dark Girl Critical Perspective: On "Double-Consciousness" W.E.B. Du Bois, from The Souls of Black Folk Critical Perspective: On Race and Art Langston Hughes, "The Negro Artist and the Racial Mountain" Critical Perspective: On New Representations of Race Alain Locke, from The New Negro Critical Perspective: On Women Writers of the Harlem Renaissance Gloria T. Hull, from Color, Sex, and Poetry in the Harlem Renaissance Critical Perspective: On Formal Mastery and the Harlem Renaissance Houston Baker, from Modernism and the Harlem Renaissance Critical Perspective: On the White Gaze and Race Representation Walter Kalaidjian, from American Culture Between the Wars Critical Perspective: On Langston Hughes and Walt Whitman George Hutchinson, from The Harlem Renaissance in Black and White Featured Writer: Gwendolyn Brooks Sadie and Maud a song in the front yard The Mother Ballad of Pearl May Lee A Bronzeville Mother Loiters in Mississippi. Meanwhile a Mississippi Mother Burns Bacon Poems for Further Reading and Critical Writing piano after war kitchenette building Jessie Mitchell's Mother We Real Cool Gang Girls Boy Breaking Glass Ulysses Critical Perspective: On Gwendolyn Brooks and Poetic Form D.H. Melhem, from Gwendolyn Brooks: Poetry and the Heroic Voice Critical Perspective: On Gwendolyn Brooks and Dramatic Form Maria K. Mootry, from "Down the Whirlwind of Good Rage: An Introduction to Gwendolyn Brooks" Critical Perspective: On Voice and "We Real Cool" Hortense J. Spillers, from "Gwendolyn the Terrible: Propositions on Eleven Poems"
17.Critical Perspectives: A Casebook on Chicano/a Poetry Poems for Further Reading and Critical Writing Pat Mora, Agua negra Pat Mora, Dear Frida Jimmy Santiago Baca, Mi Tío Baca El Poeta De Socorro Jimmy Santiago Baca, Dust-Bowl Memory Jimmy Santiago Baca, Bells Jimmy Santiago Baca, Choices Bernice Zamora, Notes from a Chicano 'COED' Alma Villanueva, Of Utterances Alma Villanueva, The Last Words Gary Soto, Mexicans Begin Jogging Gary Soto, The Tale of Sunlight Sandra Cisneros, Little Clown, My Heart
18.Critical Perspectives: A Casebook on Native American Poetry Poems for Further Reading and Critical Writing Louise Erdrich, Dear John Wayne Wendy Rose, Trickster: 1977 Wendy Rose, If I Am Too Brown or Too White for You Wendy Rose, Story Keeper Leslie Marmon Silko, Story from Bear Country Simon Ortiz, The Boy and the Coyote Simon Ortiz, Making an Acquaintance Joy Harjo, She Had Some Horses Joy Harjo, Call It Fear Linda Hogan, Heritage Linda Hogan, Blessings Ray A.Young Bear, one chip of human bone Ray A.Young Bear, morning-water train woman Ray A.Young Bear, the seal Ray A.Young Bear, waiting to be fed
19.Feminism and Representation Carpe Diem Verse and Feminist Critique Robert Herrick, To the Virgins, to Make Much of Time Andrew Marvell, To His Coy Mistress John Crowe Ransom, Blue Girls John Donne, Elegy XIX. To His Mistress Going to Bed W.B. Yeats, Leda and the Swan Poetry and Re-visionary Feminism Emily Dickinson, Poem 1545 (The Bible is an antique Volume) Adrienne Rich, Aunt Jennifer's Tigers Sylvia Plath, Daddy Christina Rossetti, In an Artist's Studio H.D. (Hilda Doolittle), Helen Feminist Verse Muriel Rukeyser, The Birth of Venus Sharon Olds, The One Girl at the Boys Party Lucille Clifton, Homage to My Hips Joy Harjo, The Woman Hanging from the Thirteenth Floor Window Audre Lorde, From the House of Yemanjá Poems for Further Reading and Critical Writing Adrienne Rich, Diving into the Wreck Anne Killigrew, Upon the Saying That My Verses Were Made by Another Elizabeth Bishop, In the Waiting Room Emily Brontë, Stanzas Amy Lowell, Venus Transiens Critical Perspective: On Feminism and Re-vision Adrienne Rich, from "When We Dead Awaken: Writing as Re-vision" Critical Perspective: On Sexual Difference Rachel Blau Du Plessis, from "For the Etruscans" Featured Writer: Anne Sexton For John, Who Begs Me Not to Enquire Further Her Kind Poems for Further Reading and Critical Writing The Moss of His Skin Briar Rose (Sleeping Beauty) from The Death of the Fathers Rapunzel The Abortion With Mercy for the Greedy Said the Poet to the Analyst For My Lover, Returning to His Wife Critical Perspective: On Poetry and the Unconscious Anne Sexton, "Interview with Barbara Kevles" Critical Perspective: On Anne Sexton's "Her Kind" Diane Wood Middlebrook, from "Poet of Weird Abundance" Critical Perspective: On Fathers and Daughters in Sexton's Verse Diana Hume George, from "How We Danced: Anne Sexton on Fathers and Daughters" Critical Perspective: On Sexton and Confessional Verse J.D. McClatchy, from "Anne Sexton: Somehow to Endure"
20.Representations of Desire and Sexuality Elizabeth Barrett Browning, Sonnet 43 (How do I love thee? Let me count the ways) Queen Elizabeth I, On Monsieur's Departure Dorothy Parker, Somebody's Song Christina Rossetti, A Birthday Theodore Roethke, I Knew a Woman George Gordon, Lord Byron, She Walks in Beauty William Shakespeare, Sonnet 18 (Shall I compare thee to a summer's day?) Representations of Sexuality Anne Finch, Countess of Winchilsea, Friendship between Ephelia and Ardelia Adrienne Rich, Poem XI, from Twenty-One Love Poems Mae V. Cowdery, Insatiate Audre Lorde, Love Poem William Shakespeare, Sonnet 20 (A woman's face, with nature's own hand painted) John Donne, Batter My Heart, Three-Personed God David Bergman, Blueberry Man Poems for Further Reading and Critical Writing Elizabeth Bishop, Insomnia Aphra Behn, To the Fair Clarinda, Who Made Love to Me, Imagined More Than Woman Walt Whitman, When I Heard at the Close of the Day Mina Loy, Poems I, II, IX, from Songs to Joannes Robert Duncan, The Torso: Passages 18 Olga Broumas, The Masseuse Richard Harteis, Star Trek III Gregory Corso, Marriage Critical Perspective: On Sexual Representation in John Donne's Holy Sonnet 14 Richard Rambuss, from Closet Devotions Critical Perspective: On Lesbian Existence and the Lesbian Continuum Adrienne Rich, from "Compulsory Heterosexuality and Lesbian Existence" Critical Perspective: On Sexual Knowledge, Power, and Ideology in Shakespeare's England Bruce Smith, from Homosexual Desire in Shakespeare's England
21.Postcolonial Poetics Derek Walcott, A Far Cry from Africa Yambo Ouologuem, Tomatoes Poems for Further Reading and Critical Writing Ha Jin, Ways of Talking Léopold Sédar Senghor, Prayer to the Masks Wole Soyinka, Telephone Conversation Adrian Oktenberg, A Young Sniper Faiz Ahmed Faiz, A Prison Evening Taslima Nasrin, Border Jayanta Mahapatra, Main Temple Street, Puri Chitra Banerjee Divakaruni, Song of the Fisher Wife Shu Ting, Assembly Line Shu Ting, Bits of Reminiscence Critical Perspective: On Postcolonial Resistance Leela Gandhi, from Postcolonial Theory Critical Perspective: On African Poets and the European Tradition Wole Soyinka, from Poems of Black Africa
22.Cultural Criticism Claude McKay, If We Must Die Featured Writer: Langston Hughes The Negro Speaks of Rivers Theme for English B Cross Langston Hughes, the Harlem Renaissance, and the Blues The Weary Blues Langston Hughes and Social Activism Langston Hughes and Contemporary African American Poetics Poems for Further Reading and Discussion Negro Jazz Band in a Parisian Cabaret Good-Morning Revolution The Same One More "S" in the U.S.A. Let America Be America Again Air Raid: Barcelona Ballad of the Fortune Teller Too Blue Blues at Dawn Consider Me Critical Perspective: On Racial Heritage Langston Hughes, from The Big Sea: An Autobiography Critical Perspective: On the Harlem Renaissance Langston Hughes, from The Big Sea: An Autobiography Critical Perspective: On House-Rent Parties Langston Hughes, from The Big Sea: An Autobiography Critical Perspective: On the Mahogany Harvest Langston Hughes, from The Big Sea: An Autobiography Critical Perspective: On The Weary Blues Countée Cullen, from review of The Weary Blues, Opportunity Critical Perspective: On the Black Arts Movement Kaluma ya Salaam, from "The Black Arts Movement," The Oxford Companion to African American Literature
23.Poems for Further Reading Ai, The Mother's Tale John Ashbery, The Painter W.H. Auden, The Shield of Achilles W.H. Auden, Lullaby Peter Balakian, After the Survivors Are Gone Peter Balakian, from Beowulf Elizabeth Bishop, One Art William Blake, The Divine Image William Blake, A Divine Image William Blake, A Poison Tree William Blake, The Tyger Louise Bogan, Medusa Eavan Boland, The Pomegranate Anne Bradstreet, To My Dear and Loving Husband Emily Brontë, [Long Neglect Has Worn Away] Sterling A. Brown, Slim in Atlanta Elizabeth Barrett Browning, To George Sand, A Desire Elizabeth Barrett Browning, Sonnet 14 (If thou must love me, let it be for naught) Robert Browning, My Last Duchess George Gordon, Lord Byron, The Destruction of Sennacherib Lewis Carroll, Jabberwocky Margaret Cavendish, An Apology for Writing So Much upon This Book Geoffrey Chaucer, from The General Prologue, The Canterbury Tales Lady Mary Chudleigh, To the Ladies Samuel Taylor Coleridge, Frost at Midnight Hart Crane, Proem: To Brooklyn Bridge Robert Creeley, I Know a Man Countée Cullen, Incident E.E. Cummings, in Just- James Dickey, The Performance Emily Dickinson, Poem 67 (Success is counted sweetest) Emily Dickinson, Poem 216 (Safe in their Alabaster Chambers) Emily Dickinson, Poem 241 (I like a look of Agony) Emily Dickinson, Poem 280 (I felt a Funeral, in my Brain) Emily Dickinson, Poem 303 (The Soul selects her own Society) Emily Dickinson, Poem 341 (After great pain, a formal feeling comes) Emily Dickinson, Poem 435 (Much Madness is divinest Sense) Emily Dickinson, Poem 528 (Mine—by the Right of the White Election) Emily Dickinson, Poem 754 (My Life had stood—a Loaded Gun) Emily Dickinson, Poem 1129 (Tell all the Truth but tell it slant) Emily Dickinson, Poem 1763 (Fame is a bee) John Donne, The Sun Rising John Donne, Sonnet 10 (Death, be not proud, though some have callèd thee) Rita Dove, Parsley Paul Laurence Dunbar, Sympathy Robert Duncan, Often I Am Permitted to Return to a Meadow T.S. Eliot, The Love Song of J. Alfred Prufrock Queen Elizabeth I, When I Was Fair and Young Ralph Waldo Emerson, Concord Hymn Carolyn Forché, The Testimony of Light Robert Frost, The Road Not Taken Robert Frost, Stopping by Woods on a Snowy Evening Robert Frost, Design Robert Graves, The White Goddess Thomas Hardy, Channel Firing Robert Hayden, Those Winter Sundays Robert Hayden, Paul Laurence Dunbar George Herbert, The Altar Robert Herrick, The Vine Robert Herrick, The Pillar of Fame Garrett Kaoru Hongo, Yellow Light Gerard Manley Hopkins, Pied Beauty Gerard Manley Hopkins, Thou Art Indeed Just, Lord A.E. Housman, To an Athlete Dying Young Andrew Hudgins, Supper Langston Hughes, Bad Luck Card Langston Hughes, Harlem Sweeties Langston Hughes, Harlem Langston Hughes, Café: 3 A.M. Randall Jarrell, The Death of the Ball Turret Gunner Ha Jin, In New York City Ben Jonson, Song: To Celia (II) Ben Jonson, Slow, Slow, Fresh Fount Carolyn Kizer, Semele Recycled Yusef Komunyakaa, Blackberries Maxine Kumin, Woodchucks Philip Larkin, Talking in Bed D.H. Lawrence, Bavarian Gentians Emma Lazarus, The New Colossus Michael Longley, The Linen Industry Audre Lorde, Coal Robert Lowell, For the Union Dead Andrew Marvell, The Garden Herman Melville, The Maldive Shark George Meredith, Lucifer in Starlight W.S. Merwin, The Drunk in the Furnace W.S. Merwin, Chord Edna St. Vincent Millay, Spring John Milton, On the Late Massacre in Piedmont Janice Mirikitani, Desert Flowers Marianne Moore, The Fish Paul Muldoon, Milkweed and Monarch Frank O'Hara, The Day Lady Died Wilfred Owen, Dulce et Decorum Est Sylvia Plath, The Colossus Sylvia Plath, Witch Burning Edgar Allan Poe, The Raven Alexander Pope, from Epistle II. Of the Nature and State of Man with Respect to Himself, as an Individual Ezra Pound, from The Cantos, I John Crowe Ransom, Piazza Piece Edwin Arlington Robinson, Richard Cory Theodore Roethke, Root Cellar Theodore Roethke, In a Dark Time Christina Rossetti, After Death Dante Gabriel Rossetti, The Woodspurge Carl Sandburg, Chicago Carl Sandburg, Grass Siegfried Sassoon, Christ and the Soldier William Shakespeare, Sonnet 129 (Th' expense of spirit in a waste of shame) William Shakespeare, Sonnet 130 (My mistress' eyes are nothing like the sun) Percy Bysshe Shelley, Ozymandias Sir Philip Sidney, What Length of Verse? Charlotte Smith, XXXVIII Cathy Song, The Youngest Daughter Gertrude Stein, from Lifting Belly Wallace Stevens, The Snow Man Wallace Stevens, The Emperor of Ice-Cream Wallace Stevens, Anecdote of the Jar May Swenson, Poet to Tiger Alfred, Lord Tennyson, Break, Break, Break Alfred, Lord Tennyson, Crossing the Bar Dylan Thomas, In My Craft or Sullen Art Dylan Thomas, Do Not Go Gentle into That Good Night Edward Thomas, The Owl Henry David Thoreau, I Am a Parcel of Vain Strivings Tied Jean Toomer, Georgia Dusk Margaret Walker, Childhood Phillis Wheatley, On Being Brought from Africa to America Walt Whitman, from Song of Myself (Sections 1, 11, 52) Walt Whitman, When I Heard the Learn'd Astronomer Walt Whitman, By the Bivouac's Fitful Flame Walt Whitman, Cavalry Crossing a Ford Walt Whitman, A Noiseless Patient Spider Richard Wilbur, The Death of a Toad Richard Wilbur, Junk William Carlos Williams, Danse Russe William Carlos Williams, This Is Just to Say William Carlos Williams, The Dance William Carlos Williams, The Descent William Wordsworth, She Dwelt Among the Untrodden Ways William Wordsworth, It Is a Beauteous Evening William Wordsworth, London, 1802 William Wordsworth, My Heart Leaps Up James Wright, The Journey Sir Thomas Wyatt, They Flee from Me W.B. Yeats, The Second Coming W.B. Yeats, Sailing to Byzantium
24.Biographical Sketches of Selected Poets An Album of Art Vasily Kandinsky, Composition vi Charles Henry Demuth, I Saw the Figure Five in Gold Andy Warhol, Marilyn Monroe (Twenty Times) The Chicago Women's Graphics Collective, Boycott Lettuce and Grapes Pieter Brueghel, Landscape with the Fall of Icarus Botticelli, The Birth of Venus Raphael, An Allegory: Vision of a Knight Michelangelo, Leda and the Swan William Blake, Illuminated manuscript of "The Lamb" Dante Gabriel Rossetti, The Girlhood of Mary Virgin Samuel Bak, Thou Shalt Not Kill IV. Writing About Literature
25.Writing about Literature Getting Ready, Making Decisions Writing Revision and Final Thoughts
26.Writing about Poetry Handling Quotations Sample Student Essay Robert Frost, Birches
27.Writing a Research Paper Prewriting Writing Revision Notes and Works Cited Glossary Credits
Index of Literary Terms
Index of First Lines
Index of Authors and Titles