| | |
| --- | --- |
| | |
Local radio journalism written by Paul Chantler,Sim Harris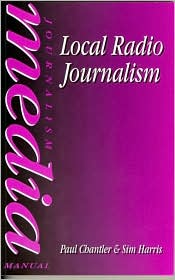 Book Buying Options
Buy Digital Book
Only $99.99

Buy Audio Book
Only $199.98

Title:
Local radio journalism
Category:
Journalism
>>
Collections & History
Category:
Radio
>>
General & Miscellaneous
Category:
Radio Journalism

Author:

Paul Chantler,Sim Harris


Publisher:

Oxford ; Focal Press, 1997.


Date Published: 1992/10/26
Pages: 144
ISBN-13:

9780240513089


ISBN-10: 0240513088
Overview:
If you are looking for the skills to gain success in local radio journalism, this practical guide will show you how. Now completely updated to include all the latest advances in technology and changes of thinking in interviewing and programming, this continues to be the ideal starter text for beginners to radio journalism.

Local Radio Journalism concentrates on showing how to go about the different aspects of local radio journalism - from how to build and establish a small newsroom on a budget, planning and developing news stories and preparing news bulletins and ensuring their accuracy. It explains what studio equipment and interviewing techniques to use, giving guidance on running the newsdesk, how to cope in a crisis, and how to keep on the right side of the law.

An ideal starter text for journalism students
Techniques are explained clearly and succinctly
Covers the latest technology and techniques
Table of Contents:
The structure of local radio; So you want to be on the radio; Newsgathering; Writing techniques; The news bulletin; Technicalities; Interviewing; The radio reporter; Newsdesk management; Newsroom management; Specialist programmes; The future of radio news; Useful addresses for radio courses.