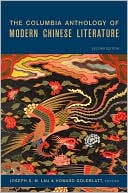 Title:
The Columbia Anthology of Modern Chinese Literature

Author:

Joseph S. M. Lau


Publisher:

Columbia University Press


Date Published: December 2006
Edition:

second edition


ISBN-13:

9780231138406


ISBN-10: 0231138407
Book Buying Options
Buy Digital Book
Only $49.99

Buy Audio Book
Only $99.98

Synopsis:
With a generous selection of new translations commissioned for this book, readers will find the best short fiction, poetry, and essays from mainland China, Taiwan, and Hong Kong in this first comprehensive collection of twentieth-century Chinese literature, which includes a lucid introduction by the editors and short biographies of the writers and

Voice Literary Supplement
Perhaps no one could be better suited to expanding the canonical limits than Lau and Goldblatt. . . .This volume, with its Columbia label, its editors' stature, and its certifiable claim to be the first comprehensive anthology of kind, cannot but achieve an instant authority.