Carribean Princess Cruise July 29, 2010

I expect first class service when I conduct a transaction with a company but I rarely get it. This was one of those rare occasions where I did get it.
I just took my first cruise ever with Princess Cruises and all I can say is "WOW!" This was the best vacation I have ever taken. There is no worrying about driving through traffic to get to a show, or trying to find parking close to a restaurant or worrying about the time on the parking meter expiring, or being attacked by mosquitoes while eating dinner on the deck in the backyard. No, everything is right there in one place and all within walking distance. What more could you ask for. They should change the saying from "Calgon, take me away." to "Princess, take me away!"
Since this is my first cruise I cannot compare it with any other cruise line but I must say that Princess has set the bar high. My wife and I stayed in room C514 which is on deck 10 of Princess' ship named the Caribbean Princess which holds 3,622 passengers. This was a beautiful room with a large balcony overlooking the ocean. My wife loved it so much she spent multiple hours reading on the balcony while both watching and listening to the ocean.

Caribbean Princess
We left from Pier 12 of Brooklyn Cruise Terminal in New York on Thursday July 29, 2010. Here is a map of our ship's course. As can be seen, we left from New York, then we went to King's Wharf in Bermuda, then we went to San Juan in Puerto Rico, then St. Thomas in the U.S. Virgin Islands, then to Grand Turk, and then finally we returned to New York, all in 9 days.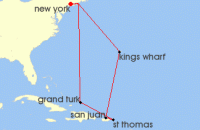 Our Princess Cruise map
On Friday, July 30, we dined at the Crown Grill which was one of two specialty restaurants that they offer. Although all the food is free, there is an extra charge of $25 per person to eat at this restaurant. Sue and I loved this dining experience and felt that it was worth the extra money for one night but we did not feel it was worth it to go a second time.
The boat offers a multitude of free shows and we took advantage of many of these shows. We went to see the "Caribbean Port and Shopping Show" which is well worth seeing if you are interested in purchasing jewelry during your vacation. Since I had planned on buying Sue some new earrings and a necklace it was a great show and it helped us save a lot of money.
This was formal night, one of two that they have during the cruise, so everybody had to get dressed up in suits, ties, and gowns or dresses. There were photographers and videographers everywhere and we took advantage of some beautiful photos especially around the Champagne Waterfall.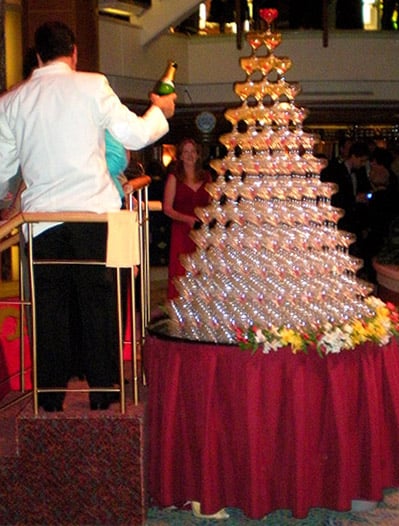 Champagne Waterfall
On Saturday July 31, 2010 we arrived in Bermuda and it was overcast and raining. Princess offers excursions on all the islands that you visit for an extra fee depending on what you want to do. We had booked a glass bottom boat tour of the reefs around Bermuda but they cancelled this excursion due to high winds, therefore we had to create our own excursion.
We went to visit the National Museum of Bermuda. This museum covers 16 acres of grounds and eight exhibit buildings. It also offers a place to swim with the dolphins. It costs $10 per person and it is only worth it if you have nothing else to do. We then went to swim at Horseshoe Bay Beach which was beautiful. I am not very buoyant, I usually sink like a rock when I try to float but this water is so salty that I am actually able to float. It is a great feeling for someone who has never floated before.
We did a bit of shopping but all I can say is "Oh my God, the prices in Bermuda are insane!" We bought one Christmas ornament but only because Sue collects them from all of our travel destinations.
We then went to Sabitini's for dinner. This is an Italian specialty restaurant that costs $20 per person. There was a great selection of food, and the service was excellent but we were not impressed by the taste of the food. For the price, we would not recommend this restaurant, but we may be the only ones who felt this way since it was always filled to capacity.
On Sunday, August 1, 2010, we went to see the comedy hypnotist Tim Triplett. I have seen shows like this before and I really enjoy them. Some people say they don't believe that the people are really hypnotized and all I can say is who cares, it makes for an excellent show. I just want to be entertained, I don't really care if it is real or not, and this show was definitely entertaining.
Every afternoon they have a trivia contest. I played and had fun even though I only got 9 out of 15 correct answers.
Every night they have "Movies Under the Stars". This movie is played on a huge screen on the top deck of the ship right outdoors under the stars. It is beautiful and since you are in the middle of the ocean there are no insects anywhere, which is such a treat.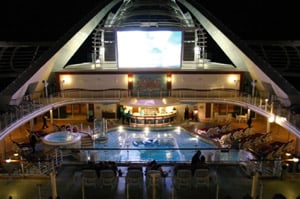 Movies Under the Stars
Monday August 2, 2010 we arrived in San Juan, Puerto Rico. We took the excursion which brought us out to El Yunque rainforest. This rain forest had very little wildlife; it was mainly trees and vegetation which doesn't really turn my crank but this tour was made special because we had an outspoken and gregarious tour guide.
We went to see Karaoke that night and I played some Texas Hold 'Em poker in the casino. The problem with the poker is that it is all done on a computerized table. You are playing against the other players around the table but you don't have real cards. The problem with this is that I don't believe it is totally random like it would be with a real deck of cards. I found that 3 of the seats seemed to win more often than the other seats and this seemed to be the case all week long.
Tuesday, August 3rd we arrived in St. Thomas where we spent several hours shopping in jewelry stores. It's amazing, you'll be shopping and the store clerk will ask you if you want a beer. You can drink the beer in the store and on the street; I have to say that I love this. I would have a beer in each jewelry store that I visited. Maybe that's why I bought so much stuff.
That night we went to see the comedian Phil Tag. He was a riot and I would definitely recommend going to see him if you get the chance.
Wednesday, August 4th we arrived in Grand Turk which is the capital of Turks and Caicos Islands. The excursion that we selected was the Gibb's Cay Beach and Stingray Encounter which I would highly recommend. We must have seen close to 30 stingrays and I pet several of them and even kissed one of them. The reef was beautiful and the staff cleaned out a conch and fed it to us raw. It was delectable and tasted like calamari.
We had dinner in the Coral Dining room and we were served Lobster and Prawn, they were so delicious that I had two plates. For dinner you can choose to be at your own private table or you can choose shared dining which allows you to dine with other people on the boat. For half of our meals we opted for the shared dining table and we met many wonderful people.
We went to see the comedian Carl Strong that night, he wasn't as funny as Phil Tag but he was very good, and once again we had a good laugh. We then went to Skywalker's Nightclub and danced until 2:00 in the morning.
Thursday, August 5th we saw the production show entitled Piano Man featuring music by Billy Joel, Elton John, Neil Sedaka, Liberace, and Barry Manilow. I loved this show.
Friday, August 6th we saw the Princess Pop Star Final and there were some very good singers.
Saturday, August 7th was the saddest day because the cruise was now over and it was time to leave. All I could think was, "No, I am not ready to go!". There was so much to do on this cruise that I never had a chance to get bored.
All I can say is that I wish I had discovered cruising years ago, it was paradise, and I cannot wait to do it again.
Written by Sean Ross on August 12, 2010