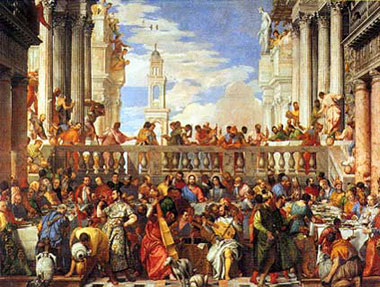 The Marriage in Cana

Title:

The Marriage in Cana


Pieces: 1000

Artist: Veronese, Paolo (1528?1588)

Size: Height = 18.75 inches
Width = 26.5 inches

Manufacturer:

Clementoni


Item Number: 314171

Veronese, Paolo, Italian painter of the Venetian school. Named Paolo Caliari, he was called Il Veronese from his birthplace, Verona. Trained under a variety of minor local artists, he was more influenced by the works of Giulio Romano, Parmigianino, and particularly Titian. In 1553 he was in Venice, where he began to develop his characteristic opulent use of color. His talent was quickly recognized. Commissioned to work on the ceilings in the ducal palace, he painted Age and Youth and Hera Presenting Gifts to Venice.