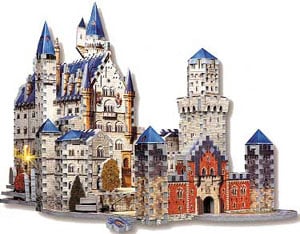 Neuschwanstein Castle

Title:

Neuschwanstein Castle


Pieces: 836

Size: Height = 15 inches
Width = 10.75 inches
Depth = 22.625 inches

Manufacturer:

Wrebbit


Item Number: P3D-817

The castle of Neuschwanstein truly epitomizes a Romantic dream castle. It's no surprise that this castle served as the inspiration for Walt Disney's Cinderella Castle. Located in Germany's Bavarian Alps, this castle is a manifestation of the fertile imagination of King Louis II of Bavaria.

Click here to read more about the history of Neuschwanstein Castle.