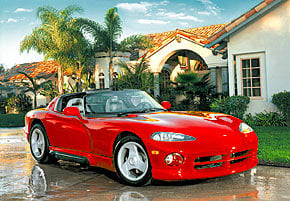 Dodge Viper RT/10

Title:

Dodge Viper RT/10


Pieces: 1000

Size: Height = 18.5 inches
Width = 26.8 inches

Manufacturer:

Castorland


Item Number: C-100606

The Dodge Viper is a V10-powered sportscar manufactured by the Dodge division of Chrysler Corporation. Production of the two seat supercar began at New Mack Assembly in 1992 and moved to its current home at Conner Avenue Assembly in October 1995. The car, as well as numerous variations of it, have made countless appearances in TV shows, videogames, movies, and music videos.