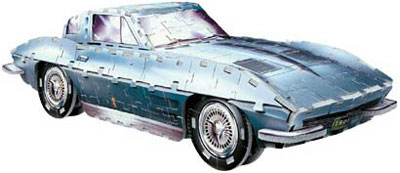 Corvette Sting Ray 1963

Title:

Corvette Sting Ray 1963


Pieces: 274

Size: Height = 3.5 inches
Width = 4.75 inches
Depth = 12.25 inches

Manufacturer:

Wrebbit


Item Number: 04672

1963 would see the introduction of the new Corvette Sting Ray coup? with its distinctive split rear window and fake hood vents as well as an independent rear suspension. The split rear window was discontinued in 1964 due to safety concerns. Because they made the design too busy, the hood vents were also cut. Power for 1963 was at 360 hp (272 kW) hitting 375 hp (280 kW) in 1964.