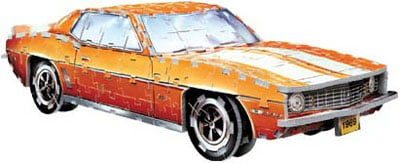 1969 Camaro SS

Title:

1969 Camaro SS


Pieces: 300

Size: Height = 3.5 inches
Width = 3.333 inches
Depth = 12.333 inches

Manufacturer:

Wrebbit


Item Number: 04573

The Chevrolet Camaro is a popular pony car made in North America by the Chevrolet Motor Division of General Motors. It was introduced on 29 September 1966 ? the start of the 1967 model year ? as a competitor to the Ford Mustang. The car shared the same platform and major components with the Pontiac Firebird, also introduced in 1967. Four distinct generations of the car were produced before production ended in 2002. A new Camaro will roll off assembly lines for 2009.